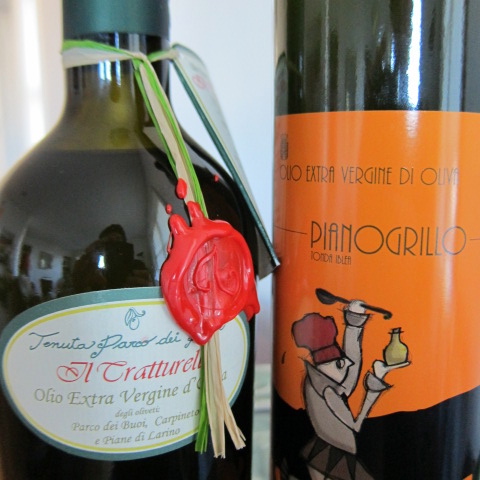 The new olive oils are coming in. They are arriving in waves, to accentuate the fact that they are ready at different times, depending on where the olive trees are located. Clearly, the first olive oils to cross the finish line are the ones from the South. We have just received Pianogrillo and Il Tratturello, both from 2011-2012 harvest, meaning that the olives were on the tree literally a month ago!
Pianogrillo, of NYTimes fame! Il Tratturello, of Andrew Cuomo fame, also the recipient (Il Tratturello) of 3 leaves by Gambero Rosso's new olive oil guide, the only 3 leaves in the Molise region!
Please don't call them "Novello". Francesco, who is a kinder person, would make a face. Lorenzo, who is much tougher, will never talk to you, again! The term Novello is for tourists. These are simply the New Olive Oils. They will stay with us for the next 12 months. Novello Olive oils do not exist.
Next olive oil to hit our shores will be Cru di Cures, made by Laura Fagiolo in Sabina (Lazio region) with leccino, frantoio, carboncella and local raja olives. If everything goes well, Cru di Cures should be in our warehouse early January 2012. What a way to start the new year. We can't wait!