Pianogrillo for Gustiamo & Friends. What is it? It's an exceptional EVOO at a reasonable price. Pianogrillo for Gustiamo is milled at Lorenzo Piccione's mill, near Ragusa. It is a blend of Sicilian olives selected by Lorenzo from farmers around him who are his friends. The olives are: Carolea, Moresca, Nocellara, Tonda Iblea, Verdesca; and tasting notes for the 2013-2014 harvest of this oil are here.
This olive oil comes ONLY in tins of 5 liters. Sorry, it can't be shipped with regular carriers. It would be too risky. (You know how sometimes UPS and FEDEX treat packages, like soccer balls.) Therefore this olive oil is NOT for sale on our website. Pianogrillo for Gustiamo is only sold to chefs around the country and it is packed on pallets. Or, you come and pick it up in the warehouse.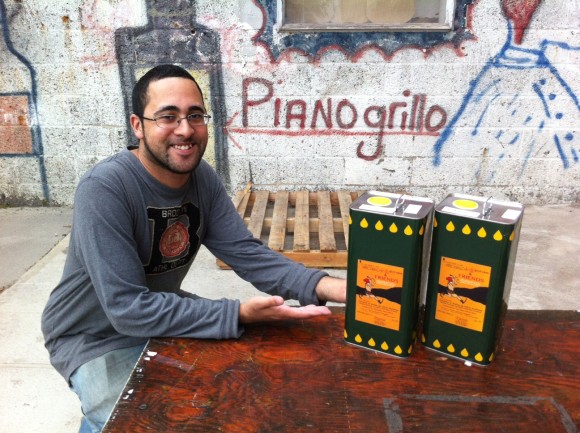 How did we find it? We were looking for a good EVOO that was not very expensive. It took us three years! We talked to everybody: big oil mills all over the boot; various associations and consortiums of producers of olive oils; offices of brokers… Yes, olive oil is a commodity and there are brokers with offices in Milan and Genova from whom you can buy big quantities of olive oil at very low prices. Then the brokers ask you (me): how do you want your olive oil?; what is your market? do you want it green? with a taste of freshly cut grass??? When we dared to ask: where does it come from? Who makes it? they laughed at us. We were really discouraged. Yes, inexpensive, but what garbage were they giving us? Then, we talked with Lorenzo, one of the most honest people/producer/friend we know. The rest is history!