From beautiful Cilento to even more beautiful Molise. It was a long trip but all worth it. Below, Camille's  post about her visit to Francesco Travaglini who makes Tratturello EV Olive Oil.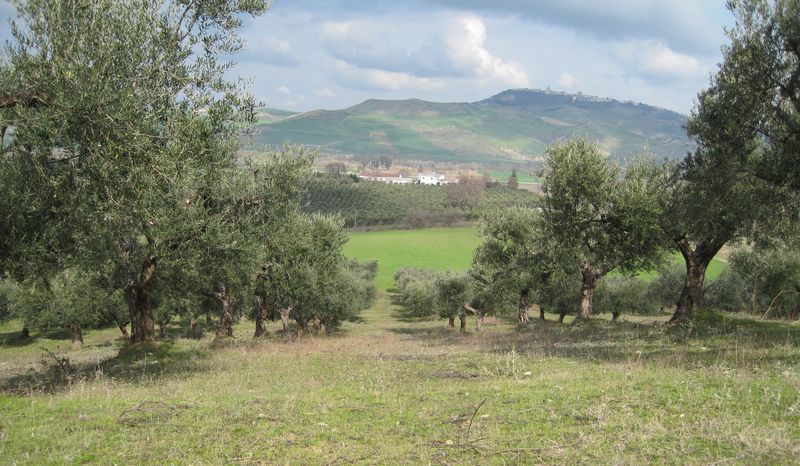 I knew going into this that it would be an adventure, but I didn't count on the Italian train system to ensure that it would be! It took six hours, four trains and a bus (the train workers were on strike for a few hours, hence the bus) to get from Paestum to Molise, a tiny province on the southeast coast of Italy. But I really shouldn't complain: I couldn't have been happier than sitting and watching the beautiful countryside speed (well, rumble is more like it) past. And I know that I just ranted about how  beautiful Cilento is, but it doesn't change the fact that Molise is now one of my favorite places, ever.  With blue skies, fluffy clouds, and green rolling hills dotted with olive groves and yellow flowers, it finally felt like spring! And the small town of Termoli, with its expansive beach, beautiful centro storico set on a cliff above the coast, and multitude of restaurants is the ideal vacation spot. But even better than all of this was my visit to Francesco Travaligni's olive groves to witness the care that goes into producing his Il Tratturello olive oil, one of Gustiamo's best-selling products.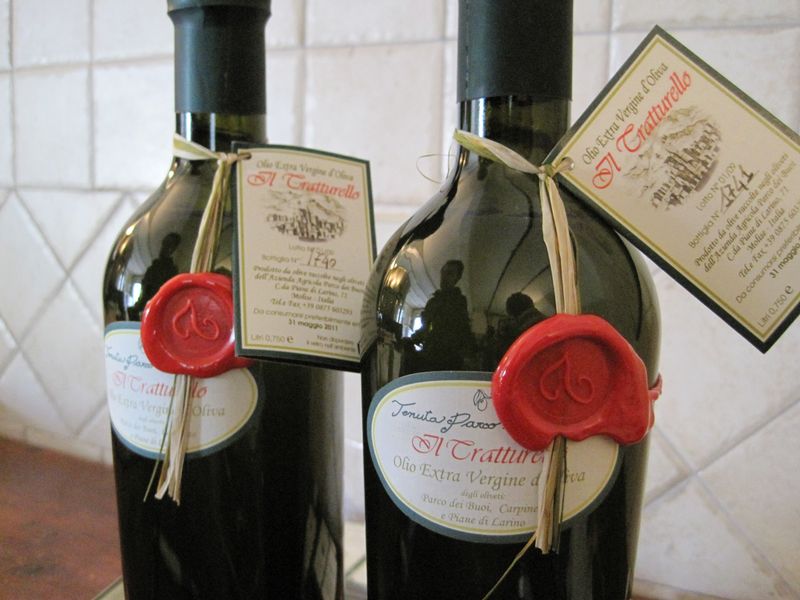 Immediately after picking me and Zac up from our room at the nearby agriturismo,  Francesco began explaining the Molise is the perfect place for the production of olive oil because the climate is cold but not too cold and the rolling hills allow for the ideal amount of sun exposure. He drove us to his biggest olive grove containing 600 of his 1,000 trees, where his sheep (he also makes artisan pecorino and ricotta) spend their days eating grass and providing manure and compost. While we walked along the rows of trees, Francesco explained everything that goes into making sure his olive oil is the best around: he harvests his olives by hand in early October, when there are fewer olives but the quality is better, and he uses cold rather than warm water during extraction to ensure the best taste possible, even though warmer water produces more oil. He differs from his neighbors in these practices since most other farmers forgo quality for quantity.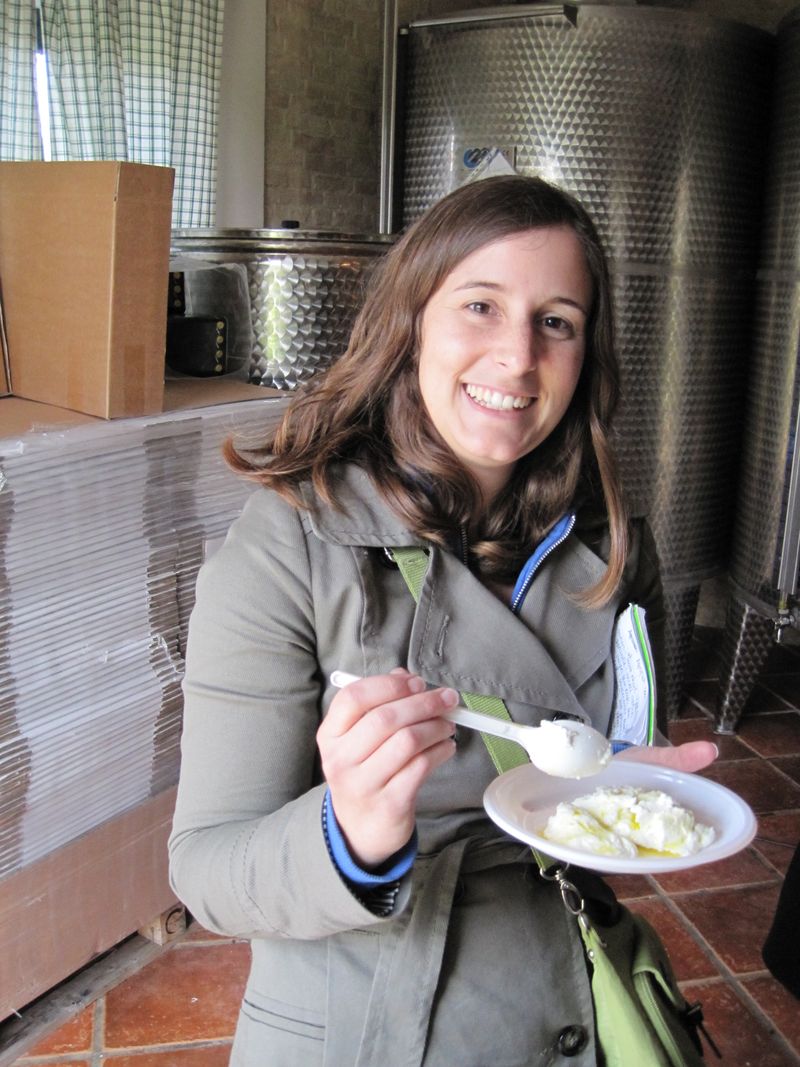 And what does quality really mean? Well, Francesco explained that extra virgin olive oil must, by law, contain less than 0.8% acidity, but that his oil is much more balanced with around only 0.37% acidity. "Good" olive oil is not good enough for Francesco – even though his family have been olive growers (olivicoltori) for generations, Francesco went to school to make sure that his oil would be the best it could be. And his hard work pays off: I've tasted nothing more sublime that his exceedingly delicious olive oil drizzled over ricotta made that morning. I'm hungry just thinking of it!
But this is not the only reason why Francesco so fascinates and impresses me. He cares not only for the oil itself, but for the trees and their history. He brought me to another of his olive groves, this one much older. The trees had been through a lot, with cracks and bowed branches, but Francesco insisted that they were no less productive than their younger counterparts. He explained that the neighboring grove, also much older but owned by another olivicoltori, was being cut down and replaced by newer trees. Francesco believes this to be a complete disregard for the history that the trees keep alive and a result of ignorance about increased productivity.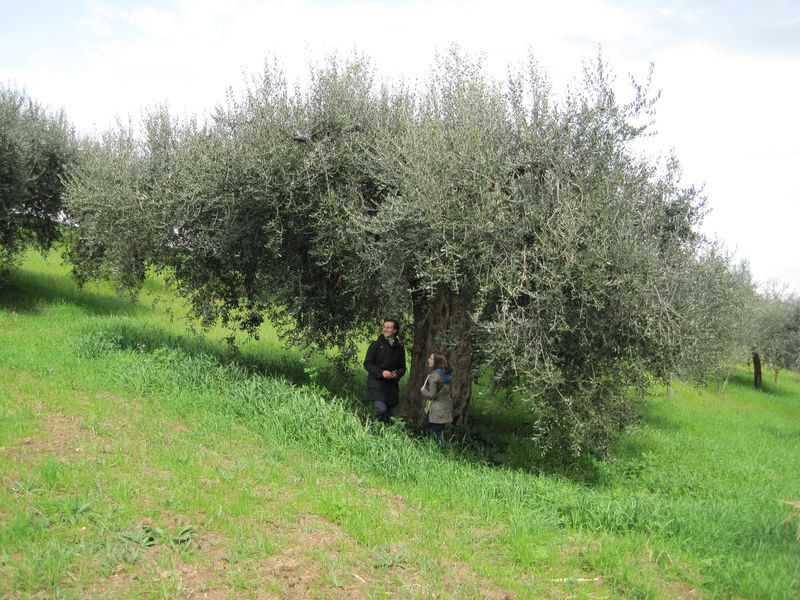 And he has a strong case: the oldest tree in his orchard is believed to be about 500 years old. It towered above the rest, and I know this sounds ridiculous but there really was a strength and power about it. He said that he produced 70 bottles of olive oil from this one tree (about 30 litres of oil, compared to around 4 litres of oil per younger trees), the full profits from which went toward purchasing books for schoolchildren in Africa (which I found out only after I asked Francesco whether he kept some of the bottles for himself).
This is the real deal – everything Francesco does, from the care of his trees to the production of his oil is deeply rooted in a sense of community, history, and, perhaps most of all, taste. I have so much more to tell, but at the risk of writing a book I'll stop here. But if you're interested in knowing more, please don't hesitate to contact me – I'm always happy to talk more about the wonderful foods I've tasted and producers I've visited!