Introducing PRESSURE: a limited-edition olive oil with so much more than the elixir contained within. Born from a collaboration between Ghetto Gastro, Parco dei Buoi, and Gustiamo, all profits from the 150 bottles benefit the Food For Soul refettorio in Harlem.
But what makes Pressure so special? First of all, the oil itself! It's exclusively pressed from hand-harvested olives grown on the two ancient Leone di Carpineto olive trees. These 500 year old trees grow on Francesco Travaglini's Parco Dei Buoi olive oil farm, home of "Il Tratturello". The olive variety, Saligna di Larino, is a rarity grown only in the Molise region. Washed, pressed and bottled within hours of harvest, PRESSURE truly captures the essence of these amazing olives!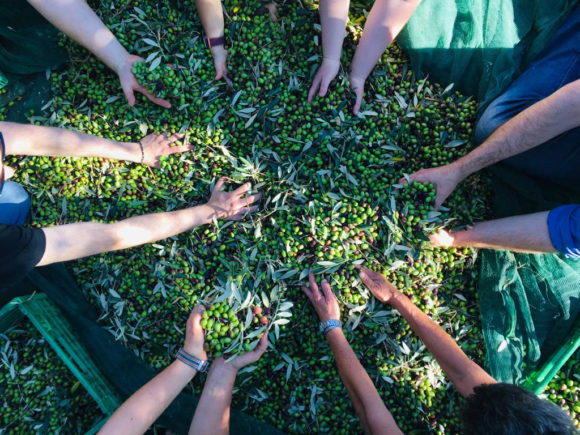 But what really sets this oil apart is the collaboration it represents. This past October, we invited Pierre Serrao from Ghetto Gastro to experience the olive harvest with us at Parco dei Buoi. This opportunity in Molise allowed him to connect with Francesco and lay the foundation for this project.
Ghetto Gastro is a collective of chefs and food enthusiasts based in New York with deep ties to our home borough, the Bronx. Their mission is to elevate the discussion of gastronomy and food culture at the intersection of art, inclusion, and economic empowerment. Ghetto Gastro creates fashion and food products, as well as hosting incredible catered events all across the United States. It was so special to have the Bronx represented on the ground in Italy!
" We want to share with our community the things we have learned, and most importantly tasted, on our travels. This sharing of cultures is vital to our essence and being." Pierre Serrao
Profits from this oil will go towards Food For Soul, a nonprofit founded by Chef Massimo Bottura and Lara Gilmore to fight food waste for social inclusion. Specifically, this oil benefits the Refettorio in Harlem which provides nourishment for those most socially vulnerable, and supports job training and workforce development programs for at-risk youth.
We're so happy to be a part of this project that brings so many incredible organizations together through one product!
PRESSURE Extra Virgin Olive Oil is available exclusively here at gustiamo.com