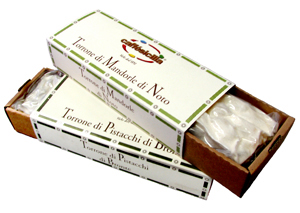 The torrone from Caffe' Sicilia is special. It is certainly a Christmas MUST HAVE, and it is wonderful any day of the year!
One reason it is so special is because unlike other nougat traditions coming out of Italy, this torrone is soft and malleable without being gummy or
tacky. Another reason why it is so special is a matter of ingredients. This torrone is totally loaded (dare we say chock-full) with Almonds from Noto or Pistachios from Bronte.
These are the same Almonds from Noto that were recently made famous by Florence Fabricant in the New York times. As for the pistachios, good luck finding real Pistachio from Bronte anywhere else in the USA right now, except for our Caffe' Sicilia torrone.
Next is the honey. Cherished just as much as the precious nuts Caffe' Sicilia uses, is the honey from the Iblei Mountains (range that spans the Sicilian provinces of Ragusa, Siracusa
and Catania). The taste of this honey in Caffe Sicilia's torrone is unmistakable and truly marries the flavors and consistencies of egg white and nuts.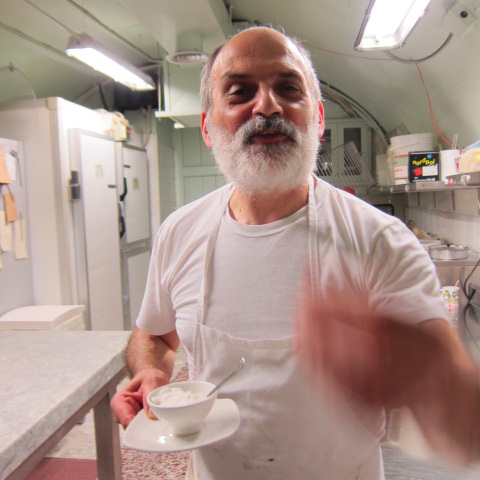 These precious nougats come in a box (see picture above) and inside the box you'll find the nougat in a vacuum package. We always had an issue with this wrapping, we just couldn't open it neatly. Jokingly, we have often called the vacuum packed bag a "torrone chastity belt"; we know that
those pistachios and almonds are prize possessions; but give us a break! Well, we went to Noto and specifically asked Chef Corrado Assenza what is the trick.
See the video below. Here is the secret: you put the torrone on a cutting board and slit the back of the torrone package open with a knife… AND… watch the video!