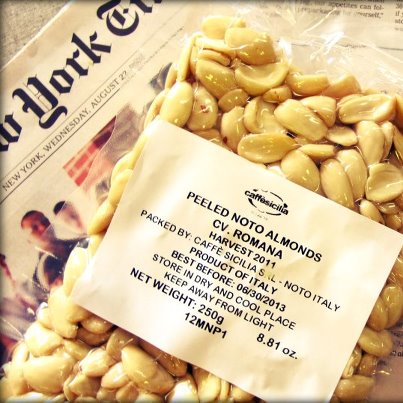 Last week, in the NYTimes,
Florence Fabricant compares Sicilian Noto Almonds to "other" almonds and writes: "Fat, buttery Marcona almonds
have become the stars of the nibble bowl. But serious cooks, and those with sophisticated taste buds that welcome bitterness, might consider distinctive almonds from Sicily. These are dry in texture, not oily, slightly wrinkled and dense with assertive flavor, the go-to nut when you want to leave no doubt that there are almonds in that cake or those cookies. The finest, from a company called Caffè Sicilia, come from the area around Noto, a Baroque hill town in the island's southeastern corner. The almonds are protected by Slow Food…" If you are a serious cook, you know what to do. You can buy Almonds from Noto by Caffe' Sicilia, here.