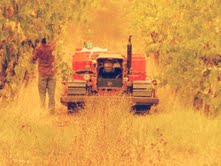 We love the word "vendemmia". Although there is no real translation for this word in English. For the grape growing countrysides in Italy,
"La Vendemmia" refers to a time of year, a state of mind, and a set of flavors.
"vendemmia /venˈdemmja/ (grape) harvest, vintage"
The word "vendemmia" in Italian can refer to either a wine's vintage, or, in this case, the grape harvest itself. Every Italian region and
micro-climate has its own vendemmia time. In North Western Sicily, this week will prove to be the last week of Vendemmia.
Our oenologist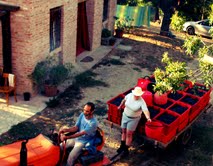 friend who works with vines in Sicily's "Strada del Vino Alcamo Doc" region told us that he is very positive about the 2012 vintage both from a qualitative and quantitative standpoint.
One of the highlights for us from this year's Sicilian vendemmia has been Elizabeth Minchilli's report of the zibibbo harvest in Pantelleria. Zibbibo, the muscat grape with origins in North Africa, is one of our favorites because of its versatility. Zibbibo jelly, which we call Zibbibo Grape Elixir, is a Gustiamo prized Sicilian import, from La Nicchia, in the island of Pantelleria. We love Minchilli's description of how she discovered Zibbibo jelly while in Pantelleria: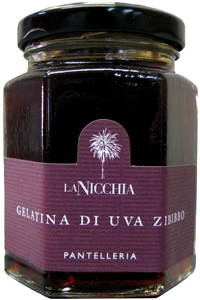 "As we went into the small kitchen we were hit with the perfume of what we
all thought was a pot of Ambrosia bubbling away. Instead it was yet another
use of the sweet grapes: jam. "It's a bit time consuming, since we pit each
grape", explained Diego, "And to get it right – with a minimal amount of
cooking – we can't make more than a kilo per batch. But it's worth it". Again, since the grapes start out so sweet the jam requires only about 10 to
15% sugar. Cooked for about a half hour the resulting jam is thick, almost
syrup like, with the heavy skinned grapes still perfectly intact. Sweet,
fruity and chunky."
Some of the ways that we love to eat Zibbibo Grape Gelatina (Ambrosia, Nectar, Elixir.. however you call it) is to flavor whipped cream, yogurt, in a Prosecco Kir, drizzled over berries, in tea, with aged cheeses; or of course, plain and simple on warm fresh bread.