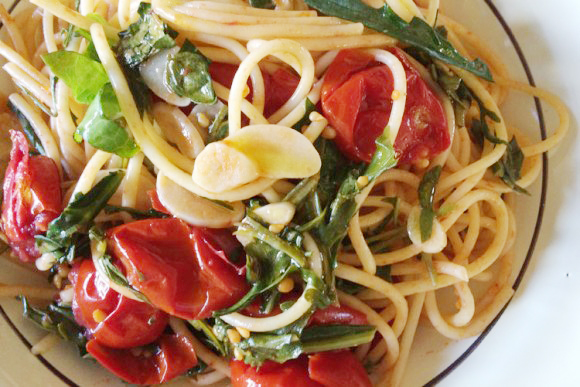 Just back from her trip to the pasta producing center of the universe, Gragnano, Nancy Harmon Jenkins breaks down why Pasta Faella is the epitome of good Italian artisanal pasta in Zester Daily:
"To qualify as artisanal, pasta must be made at consistently low temperatures (no higher than 122 degrees F) from start to finish, extruded through bronze dyes (producing a roughened surface) and dried slowly… Gragnano has a coveted Indicazione Geografica Protetta from the European Union, a certification that pasta with that seal has been made according to precise regulations.
Pastificio Faella is one of nine Gragnano producers that make IGT pasta. I spent some time recently in Gragnano with Pastificio Faella's Sergio Cinque. As we toured the factory, Cinque described the various phases of drying and the importance of each one. "If it's not done properly," he said, 'there's a real risk of fermentation and that will result in pasta with an acid flavor.' But it was the perfume of wheat that imbued the small factory with its warm, nutty, slightly dusty fragrance. To understand the high quality of artisanal pasta, Cinque suggested this test: Prepare equal quantities, say 100 grams, of ordinary commercial pasta and Pasta Faella. Bring two pots of water to a boil and add the pasta, one to each pot. Cook for 8 to 10 minutes and then measure.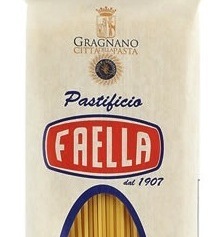 You'll find, he said, that the Faella pasta will expand notably in the water, while ordinary pasta will remain the same. That's because under high-temperature drying, a crystallization — another word is plastification — takes place, and the pasta doesn't absorb water at the same rate. What that means is that artisanal pasta is more easily digested and gives a greater sense of satiety with less of the actual food.
I left with a kilo package of Faella's excellent spaghetti tucked under my arm. When I got home, I turned it into pasta dish, a variation on one in my daughter Sara Jenkins' lovely cookbook, Olives and Oranges."