The Wall Street Journal goes to Genova and goes mad for Pesto Genovese made by Roberto Panizza. "Roberto Panizza, Genoa's pesto impresario," this is how the WSJ has renamed Gustiamo's pesto producer. He has schooled the WSJ on the ins and outs of real Pesto Genovese and according to Roberto, will never go back to any other pesto.
With all respect to our summertime homemade pesto enthusiasts, like the WSJ says, "not all pesto is created equal," and "as you learn in Liguria, true pesto—or pesto alla genovese, as Italians usually call it in deference to its origins—requires a lot more effort than just opening a jar." That is, unless it is one of Roberto's jars, which contain only the freshest ingredients and no preservatives (in fact Roberto's pesto MUST be kept in the refrigerator).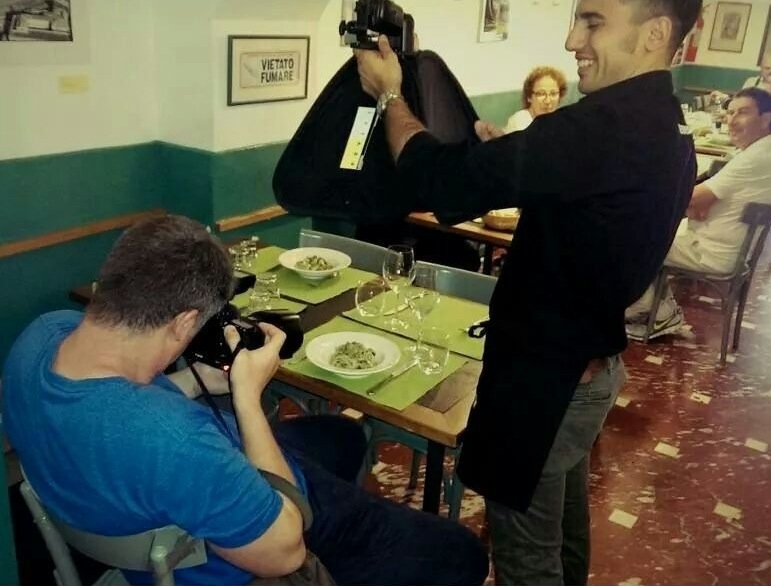 Over the last few weeks Roberto Panizza, aka The Pesto King, has been entertaining a myriad of journalists and photographers from the WSJ. He has been teaching them all about what it means to make his authentic Pesto Genovese, which Gustiamo imports to the USA, here.
So what makes Roberto's pesto so extraordinarily good? As the Wall Street Journal explains, "The first step is sourcing the ingredients. And the first ingredient that everyone worries about in Genoa is the basil—which isn't just any basil, but 'basilico genovese,' an especially sweet variety of sweet basil grown in the center and west of Liguria… 'Basil can have different flavors… It can taste of mint, or lavender or lemon.' …Pesto is traditionally made with Ligurian olive oil—a mild, buttery product a world away from the fruity, peppery oils in the rest of Italy. Good garlic is also essential."
But it is not just about the ingredients. As Roberto showed the WSJ, the method is key. "Salt should be coarse, and its abrasion is key in breaking down the basil leaves when pesto is made by hand. The grated cheese is a matter of taste and temperament. Mr. Panizza, like many in Genoa, prefers a combination of 24-month old Parmigiano-Reggiano and stronger fiore sardo, a pecorino cheese from Sardinia. When combining, pesto purists reach for a mortar and pestle. The mortar should be marble and the pestle should be wood. Mr. Panizza says you should plan on 10-15 minutes of grinding time."
Bottom line? Unless you are in Liguria and using these rare ingredients and specialized method, it is not possible to replicate the remarkable flavor found in Roberto Panizza's pesto.