Gragnano is celebrating! After battling against classic unyielding European bureaucracy, a handful of Napoli's good pasta makers have finally won. Although IGP status was granted to real Gragnano Pasta by Italian Authorities in 2012, the official seal of approval came from the EU on October 15, 2013. This is a true cause for celebration!
The Gragnano Pasta IGP procedures have been totally completed, with EU signatures and all. In other words, it's not real Gragnano Pasta if it's not IGP.  And just a quick aside: there are ONLY 9 IGP Gragnano pasta makers in the world! It's not easy to make pasta this good. The Pasta di Gragnano IGP consortium, made up of these 9 pasta makers, embraced the good news saying on their website: "With great enthusiasm we announce to all the fans of Gragnano pasta worldwide that today the quality of our products is certified and guaranteed with the official European mark of quality. Buon appetito!"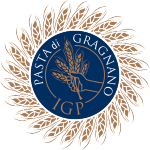 Our friends at Pasta Faella (one of the 9 pasta makers) couldn't be more relieved that the process is finally complete. As Italian journalist Roberta Gatta says so well, "After 500 years of pasta-making history… consumers will get the right protection." That's right, Gustiamo has been telling you that pasta Faella is the best for at least a decade. But don't listen to us, listen to Europe, they'll tell you the same!
So, how are we going to celebrate? We are taking the consortium's "Buon appetito!" to heart. Faella Bucatini tonight for dinner. No better way to celebrate than with some comfort food, and we are quite in the mood for some Carbonara!