Marco Colzani's chocolate hazelnut spread took first place at Compagnia del Cioccolato's Tavoletta d'Oro chocolate competition in Florence. Now in its 21st edition, the Tavoletta d'Oro ("golden tablet" in English) recognizes the best chocolatiers in Italy. This year, the judges tasted over 1200 chocolates from artisans all across the country and were especially interested in the quality of raw materials. The awards ceremony took place during the TASTE 16 trade show on February 5th, 2023.
Marco's chocolate hazelnut spread came out on top in the "crema spalmabile" category, besting 150 entries and 15 finalists. Crema spalmabile, or "sweet spread" in English, is a quintessentially Italian specialty. Compagnia del Cioccolato President Gilberto Mora says the judges were especially thorough in this category this year, and so are extremely confident with their decision. When Marco Colzani took to the stage to accept his award, he called up his (and our!) hazelnut buddy Giorgio from Terra Delle Nocciole to share the spotlight. You can't make an award-winning product without first class raw materials. Accordingly, it's the people behind those outstanding ingredients that matter most.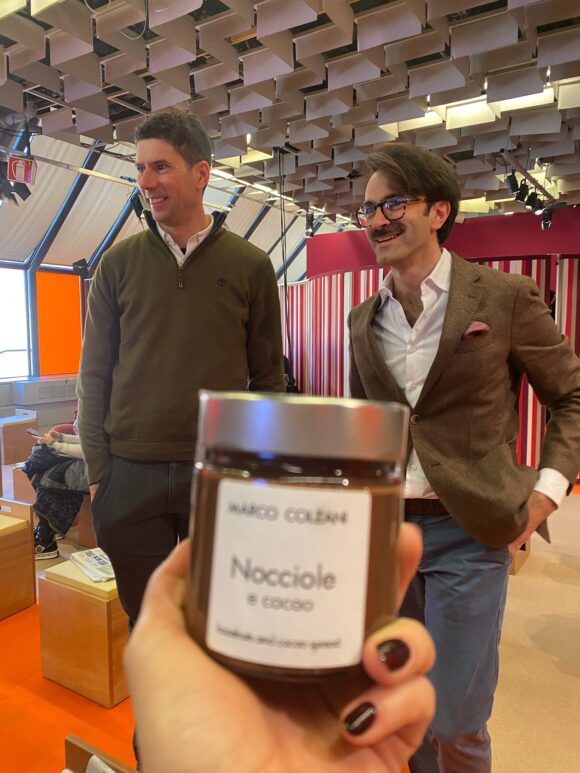 Terra delle nocciole's Tonda Gentile Trilobata hazelnuts grow in Alta Langa, an area historically renowned for hazelnut production in Piedmont. Alongside these exquisite hazelnuts, the only other ingredients are cacao from a cooperative of farmers in Venezuela, and 100% Italian beet sugar. Marco is an enologist by training. Consequently, he brings a wine makers' sensibility to flavor and balance in all his creations. This attention to raw materials and their provenance is what really sets his creations apart.