Extrascape is only 3 years old, but it will grow big and strong. You'll see. It's an olive oil (extra virgin, of course) competition. You might say: another one? There are hundreds of olive oil contests around the world. Yes. The ONE.
Extrascape is unique, because the quality of the olive oil is evaluated together with the quality of the landscape where the oil is produced. This translates into the fact that there ought to be a landscape, if you want to send a bottle of your oil to the judges of Extrascape. Fake and industrial olive oils cannot participate, since they are produced in big refineries, in an industrial environment, with no olive trees in sight. It's a revolution! Extrascape is a great idea that will go very far.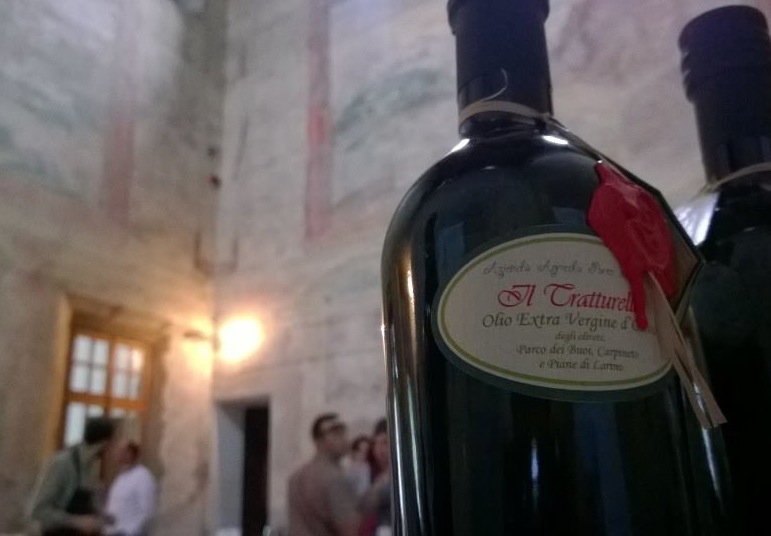 Francesco Travaglini, who makes Il Tratturello extra virgin olive oil in Molise, is the mastermind behind Extrascape. Francesco is passionate, energetic, creative and one of the most honest producers we ever met. He is young and has brilliant and brave ideas, like when he asked Gustiamo to send the Bottle #1 (his olive oil bottles are all numbered) of Il Tratturello to Barack Obama when he (Obama) was elected President of the United States. It's a long and incredible story (you can read it here), but the short of it, is that, driven by Francesco's ingenuity and tenacity, we did it. Impressive, eh?

Francesco is also an incorregible optimist: The NYTimes publishes the vignettes "Extra Virgin Suicide – The Adulteration of Italian Olive Oil"? Francesco replies to them with "Extra Virgin Resurrection – The Sublime Resurrection of Italian Extra Virgin Olive Oil". Brilliant! Of course, we (Gustiamo) have supported ExtraScape since its infancy. This year, Gustiamo's Danielle and Beatrice were finally able to actually go. What a privilege to be among people who share the same philosophy, who speak the same language (and I am not talking about Italian or English), who are so knowledgeable of what is going on in the olive oil world. It was like an advanced EVOO one on one. So great to finally meet Tom Mueller, and Alberto Grimelli. How much fun we had! During the works of Extrascape, there was an afternoon of interesting talks, MCed by Alberto and introduced by Tom. We learned that Corpo Forestale dello Stato (Italy) is our sincere partner: Rosy Patrone, chief of Molise Corpo Forestale said the good oil producers should be protected by the Italian laws and regulations; Colonel Amedeo De Franceschi, also of Corpo Forestale, said that they are working at implementing measures to control frauds; Nicola Bovoli said that olive oil and efficient marketing can drive tourism; Prof Ippoliti of La Sapienza University in Rome, said landscape is our identity and future and we must care about it; Francesco Travaglini talked about the involvement of kids (there were many, at Extrascape).
Gustiamo also participated; Danielle shared our experience with Italian olive oils in the US. A huge market where, in our opinion, much more than (the NYTimes Suicide article) 69% of Italian olive oil is fake. (More on Danielle's speech, later.) In our opinion, it's a disaster. And Danielle said very well how angry and frustrated we are that the Italian authorities do nothing to limit the problem.
Francesco's olive oil, Il Tratturello, sadly will never win anything at Extrascape because Francesco is too honest and will never send it to compete. Francesco, do not worry. With Extrascape, you spread the good word; you help others understand; you defend all honest oil producers. We are very grateful for what you are doing. YOU are the big winner. Congratulations. Looking forward to being with you, in Molise in 2015.