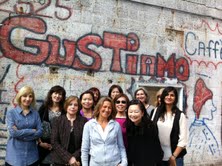 Gustiamo goes international!
These are the members of the Consular Women Club, wives of diplomats from all over the world, who came to the warehouse in the Bronx to learn about Italy's Best Foods. Their enthusiasm was catching. They all said it was like being in Italy. It was clear they were having a wonderful time. We did too!!!
Stefano (of NYTimes fame), led the olive oil tasting and it was very interesting to hear some of the comments. A lady who says she cooks Italian a lot and buys tons of olive oil, said that when she goes to the store she buys the olive oils that has the prettiest label. Everybody does it!!! Another said that she always asks for the greenest oil. Everybody does it! No more! After listening to Stefano they are now converted to the real thing!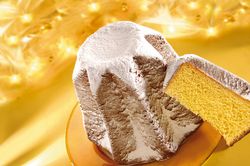 We then had lunch. Nobody had pasta with bottarga before. They all loved it! Farro Salad was another big hit.
The final WOW arrived when we tasted the first Pandoro of the season (just arrived in the warehouse). And the WOW was from our new friends and from all of us @ Gustiamo. Really spectacular. Dear CWC, great to share this with you! Come again!