I know a thing or two about good pizza. First, I was born in Napoli, then my home base in Roma is literally almost next door to the most incredible pizzeria outside Campania. The Romans call it  "l'Obitorio"  (the morgue, because of its white marble tables), but its official name on the sign outside and in the telephone book, is Panattoni.
Last night, with my usual skepticism and of course, knowing it all, Gustiamo and friends went to Co. Pizzeria in Chelsea, where the master pizzaiolo is Jim Lahey, of Sullivan Street Bakery and of global fame for having taught Americans (and me) to make bread at home. Let me tell you, the pizza is fantastic, and I am not saying this because I want to be an ass kisser (read below). The crust is thin and perfectly charred, the dough fragrant. Just delicious, you must go.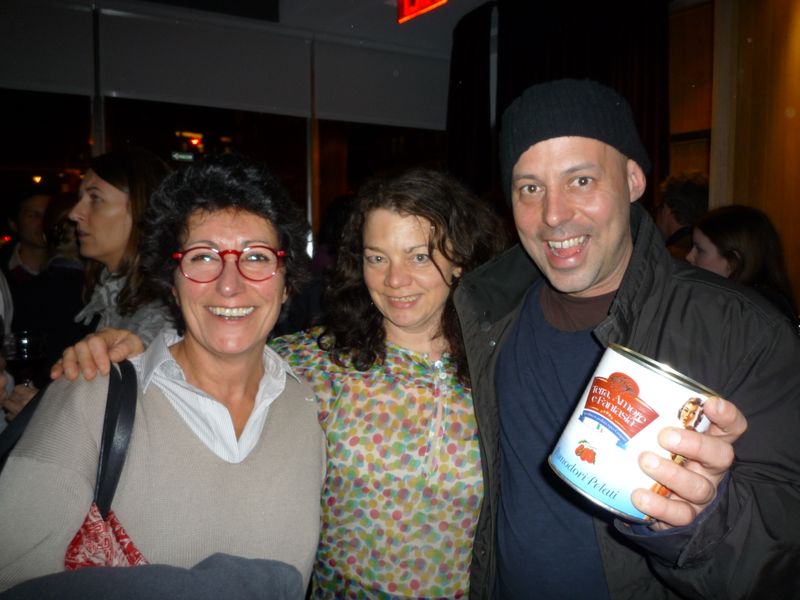 Before we left, we asked to see Jim. Here, with his friend Kate Krader of Food & Wine Magazine and me. We told Jim how impressed we were by the quality and the excecution of the pizza. We gave him a tin of tomatoes Terra Amore e Fantasia, which we just happened to have in our bag. Now, wasn't THAT an amazing coincidence? Who knows, will we have soon the Pizza Fantasia on the Co. menu?