This should have been posted a month ago. I forgot to do it.
Sora Lella is a restaurant in Roma on the isola Tiberina, where we (my husband and I) often go. Although it is very expensive (look who is talking!), it is convenient (we live nearby) and it serves very good roman food using local ingredients. Sora Lella was the original cook and the sister of Aldo Fabrizi, a comedian, poet and a huge (he was also very big) personality in Roma and Italy when I was a kid.
Simone, the third generation, told me about his plans to move to NY many months ago in Roma. He said that the brand of the restaurant is so famous in the States, he was sure it would be a success. They found investors and opened downtown, on Spring St. We wish him all the best! He and his brother, Mauro, who tends the kitchen, are very brave to start this adventure in these difficult times.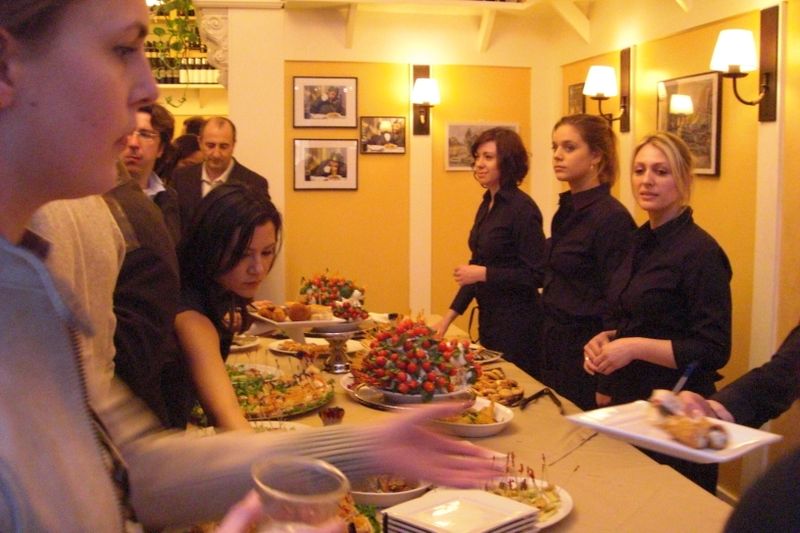 As all the beginnings, it had his problems. I can only imagine. One problem was that invitations were sent for the opening night but they forgot to follow up and alert that the date was postponed. So people (including Anne and I) went but the restaurant was closed. We had a glass of wine and left the place to the workmen in full action. When, a week later, it finally opened, I couldn't, but Anne went, took this picture and tasted the arancini di riso and other roman dishes. Worth the wait, she said. Auguri!