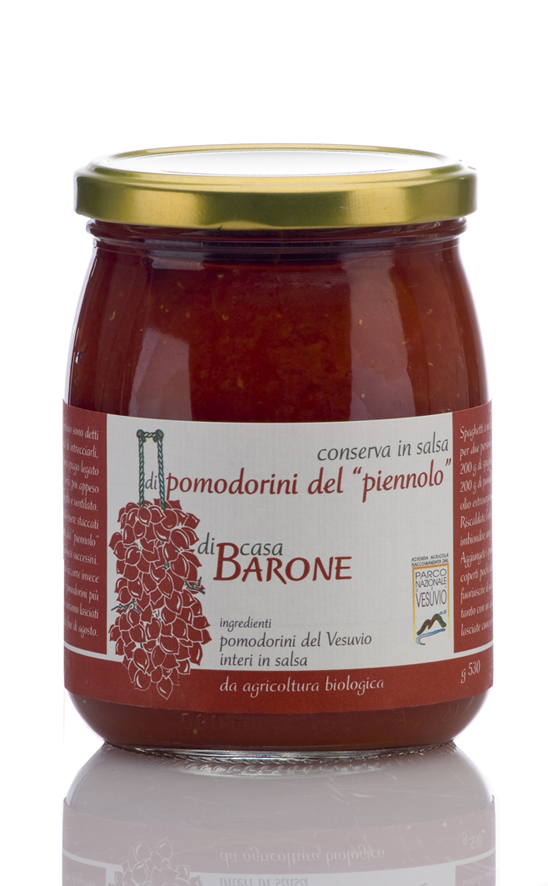 Piennolo tomatoes made by Casa Barone grow in the Mount Vesuvius National Park. They are the only organic Piennolo Tomatoes which are certified organic. You can't enter the park gate with anything which is not organic!
What do you do with Piennolo Tomatoes?
– you make pizza vera napoletana. According to the Associazione Pizza Verace Napoletana, you can make pizza using only San Marzano or Piennolo Tomatoes. If you use anything else, you are wasting your time.
– you use Piennolo tomatoes anywhere you would use other ordinary tomatoes. Whatever you are cooking will taste better.
Piennolo Tomatoes will receive DOP status in November by the Italian Food Authority. To celebrate the event, Gustiamo translated the recipe which appears on the very jar of Piennolo Tomatoes, a recipe prepared directly by Giovanni Marino, the man behind the Casa Barone Farm.
This is the translation of the recipe on the jar:
500 gr /1 box spaghetti
500g / 1 jar pomodorini piennolo
Extra Vergin Oliv Oil, garlic, Sea Salt
1 or more cloves of garlic in oil until garlic is blond.
Piennolo tomatoes, put on lid on the saucepan for a few minutes and mix with a wood spoon.
cooking for a few minutes
Add in the al dente spaghetti, mix well and enjoy!