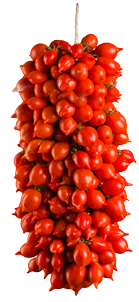 "Insanely flavorful. Obsession-worthy. Powerful tomato."
That's what Food & Wine has to say about Gustiamo's Casa Barone Piennolo Tomatoes.
We are so pleased that F&W has caught on to our Italy-insider secret, "Grown in Mount Vesuvius National Park in volcanic soil, the plump cherry tomatoes are ridiculously rich and packed with umami… a tomato so incredibly flavorful that one chef designed an entire dish around it."
That dish is Spaghetti al Pomodoro by our friends at Ribalta restaurant here in NYC. We suggest you try it yourself. No need for a recipe. Just make a quick tomato sauce with Piennolo Tomatoes, Extra Virgin Olive Oil, garlic, and salt. Use Faella Spaghetti, to seal the deal that this pasta al pomodoro will be stunning! It takes just 5 minutes to cook!