Molise is the definition of wonderland off the beaten path. As Italians say, "il Molise non esiste" (Molise doesn't exist or even Molisn't). But that couldn't be furthest from the truth. Medieval villages, stunning vistas, excellent cuisine.. as Washington Post travel writer Chico Harlan puts it, "Molise offers the best parts of Italy". He visited this "forgotten region" earlier this year. He extolled the virtues in his piece "Far off the tourist track, Molise offers the best parts of Italy".
Chico and his family spent some time at Parco dei Buoi. Yes! That's the same Parco dei Buoi that is home of our extra virgin olive oil producers Francesco and Pia Travaglini. In the rolling hills of Molise, they produce the coveted Il Tratturello olive oil.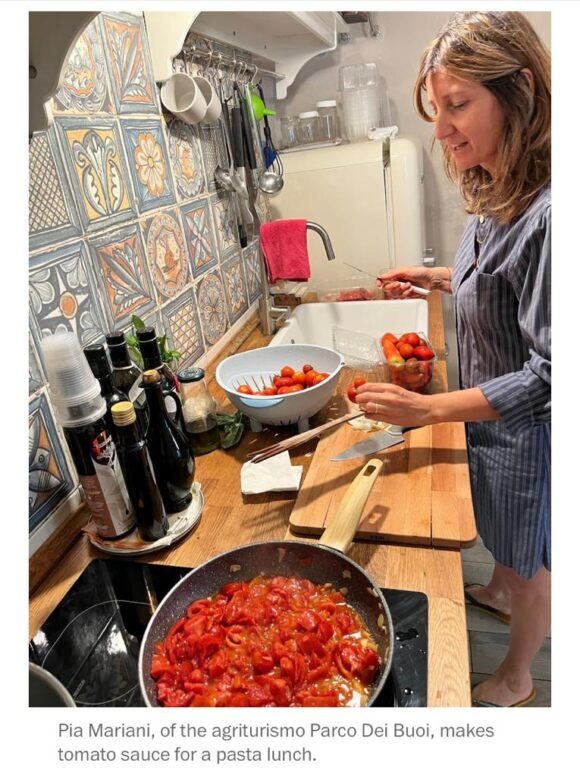 Here's what Chico had to say about his stay with the Travaglinis:
"We spent our first three nights in the region at Parco dei Buoi, an agriturismo, or farm stay, in the middle of olive groves and apricot trees. Such places are abundant in Italy, and you normally get a humble room and a good breakfast, maybe some mosquito bites. What we found at Parco dei Buoi was plenty of good food and also a near-instant family: Francesco Travaglini, Pia Mariani, their daughter, Giulia, soon departing for college in Milan, and their son, Gabriele.

Giulia took our son to harvest tomatoes, which were turned by Pia into a pasta al pomodoro so sublime that the sugo didn't even need cheese. We ate together at a table with local wine."
Sounds like a dream! We know exactly how it feels to spend some time in the bellissimo Molise. We took in all its beauty and welcoming warmth during the Il Tratturello 2021/2022 harvest.
"In an era when Italy is so warped by tourism, when even the "off-the-beaten-path" itineraries lead you to crowded Instagram towns, visiting Molise feels like more than an antidote. It feels like finding the buried heart of why travelers fell for Italy in the first place.