"I'm out of Porcini sott'olio and I'm desperate. Please send me 6 jars, or even 8." That's how our recent conversation with our friend + food conoisseur Victor Hazan started.
"Gustiamo's preserved porcini taste and look like no other vegetable or fruit in a jar," his love letter to Porcini mushrooms goes on. "The flavor and consistency of the thickest sections of the sliced porcini are closest to those of a ripe peach just picked off the tree. Carrying out the surprising parallel, the sections sliced from the porcini cap are rosy in color, like that of a Georgia peach. But make no mistake, it's a mushroom preserved in olive oil, its taste closing with a faint tang of vinegar.
I like to serve these porcini as part of a charcuterie course that may also offer prosciutto, slivers of Vacche Rosse cheese, green Cerignola olives, grilled artichoke hearts. Hoard a jar for yourself and enjoy the surprise in pulling up the variety of porcini sections that each jar contains."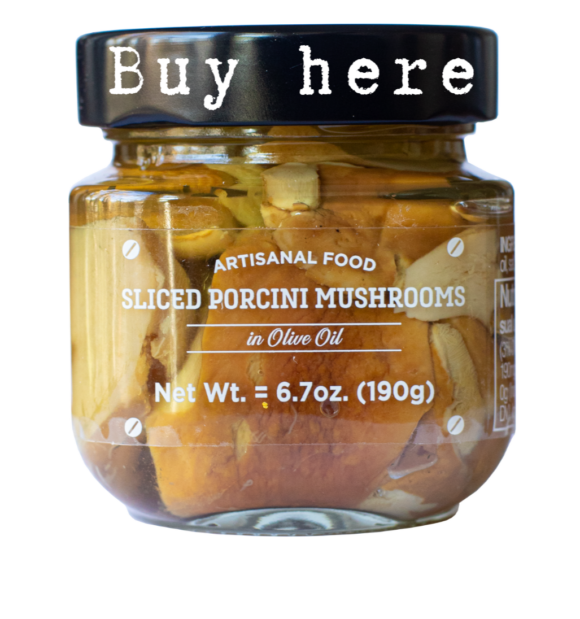 The NYTimes agrees with Victor and calls them "the most satisfyingly succulent and flavorful of fungi, umami-laden and densely textured," so we rolled up our sleeves and started experimenting in the kitchen. We landed on a recipe that highlights their unparalleled plump flesh, while bringing out all their savory character: Hazelnut Cheese Crostini topped with Porcini Mushrooms.
Dried Figs Back in Stock
Speaking of charcuterie boards and aperitivo platters, Santomiele dried figs with almonds, raisins, candied citrus, and a touch of fig molasses just arrived in the Bronx. Open the elegant fig leaf packet and place it in the middle of your holiday table: sophisticated host prize guaranteed!!