Nancy Harmon Jenkins is an absolute authority on Mediterranean cooking in the United States. Consequently, we are contentissimi to read that her canned tomatoes of choice are none other than Gustarosso's San Marzanos! She detailed her visit with Gustarosso farmer Vincenzo and his wife Lina in a beautiful edition of her newsletter "On the Kitchen Porch". What did they have for lunch? Pasta al pomodoro, of course!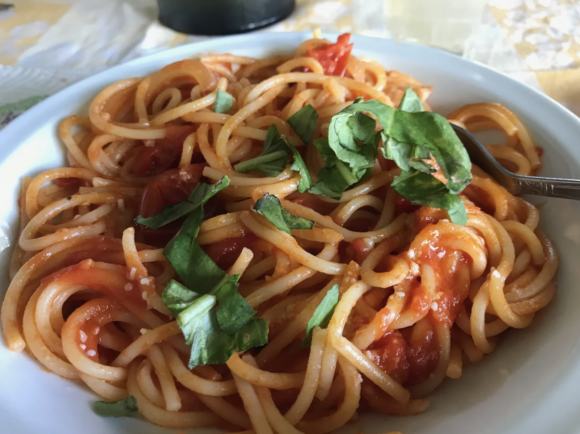 Nancy describes the Agro Nocerino Sarnese where San Marzanos grow as a "broad, low plain" that "spreads like a flared skirt below the flanks of Vesuvius". The spring-fed waters of the Sarno river quench those rich volcanic soils through a network of irrigation systems across the landscape. Millennia of Vesuvian eruptions means this corner of the world offers some of the most flavorful produce on the planet. Nancy writes:
"Among the most notable of those riches is the San Marzano del'Agro Sarnese Nocerino, a near mythical tomato with an obscure history and a cult following among serious cooks what is as often contested as it is proclaimed"
Contested? Perhaps you've come across articles detailing the findings of tasting panels assembled to determine once and for all the "Best Canned Tomatoes in America". Nancy describes this practice as an "overwhelming American urge to show that we know more than anyone else." All too often, she laments, said experts are merely individuals who work for a publication, not true tomato experts who know what qualities to look for. These tasting panels tend to favor an American palate that prizes sweetness above all else:
"One such (tasting panel) recently rated San Marzanos very low for both taste and texture, compared to favorite U.S. brands, which they tout for sweet taste and firm consistency, the former quality the result of added sugar, the latter of added calcium chloride. When I taste San Marzanos against other tomatoes, both Italian and U.S., what I taste is a complex sweet-tart balance with a pleasing hint of bitterness in the after-taste. What I taste, in fact, is a quality I can only define as "tomato," pure and simple. For me, these are the best for all the many uses to which canned tomatoes lend themselves, especially in Italian cooking."
We wholeheartedly agree. If you're looking for authentic Italian flavor in your cooking, you really can't replace San Marzano tomatoes. Gustarosso tomatoes are naturally sweet and firm. They have only a touch of citric acid, a natural preservative, to help balance their acidity and increase their longevity.
Check out Nancy's full piece on her visit with Vincenzo and Linda. She exquisitely captures the historical, social, and environmental context in which REAL San Marzano tomatoes are produced and consumed. Furthermore, she offers up Lina's recipe for the most delicious sugo di pomodoro!