In the very city center of Bologna, under one of the iconic portico walks, there is a little corner of Gusti products. It's CIBO – Culinary Institute of Bologna, the cooking school of our friend Chef Stefano Corvucci. Traditional techniques and excellent ingredients are Stefano's core values: everyday he starts his cooking classes in Bologna's Middle Market, because he believes that good ingredients are what makes the difference. That's why we are good friends with Stefano and big supporters of his project.
The fresh and seasonal raw materials in the kitchen come from the most traditional market in town and for all the other Italian ingredients he jokes around: "I don't even have to spend time researching and making a selection, I just go on Gustiamo's website and see what they offer, I know they source the best!" Walk in his kitchen and you'll see shelves full of La Ca dal Non balsamic vinegars, Pasta Faella, DaniCoop tomatoes, bottles and tins of Il Tratturello extra virgin olive oil, Nettuno anchovies, and so many more Gusti favorites. They are all staples of his cooking classes, and his lesson to his visitors is clear: use good ingredients from start to finish, and do not hold back!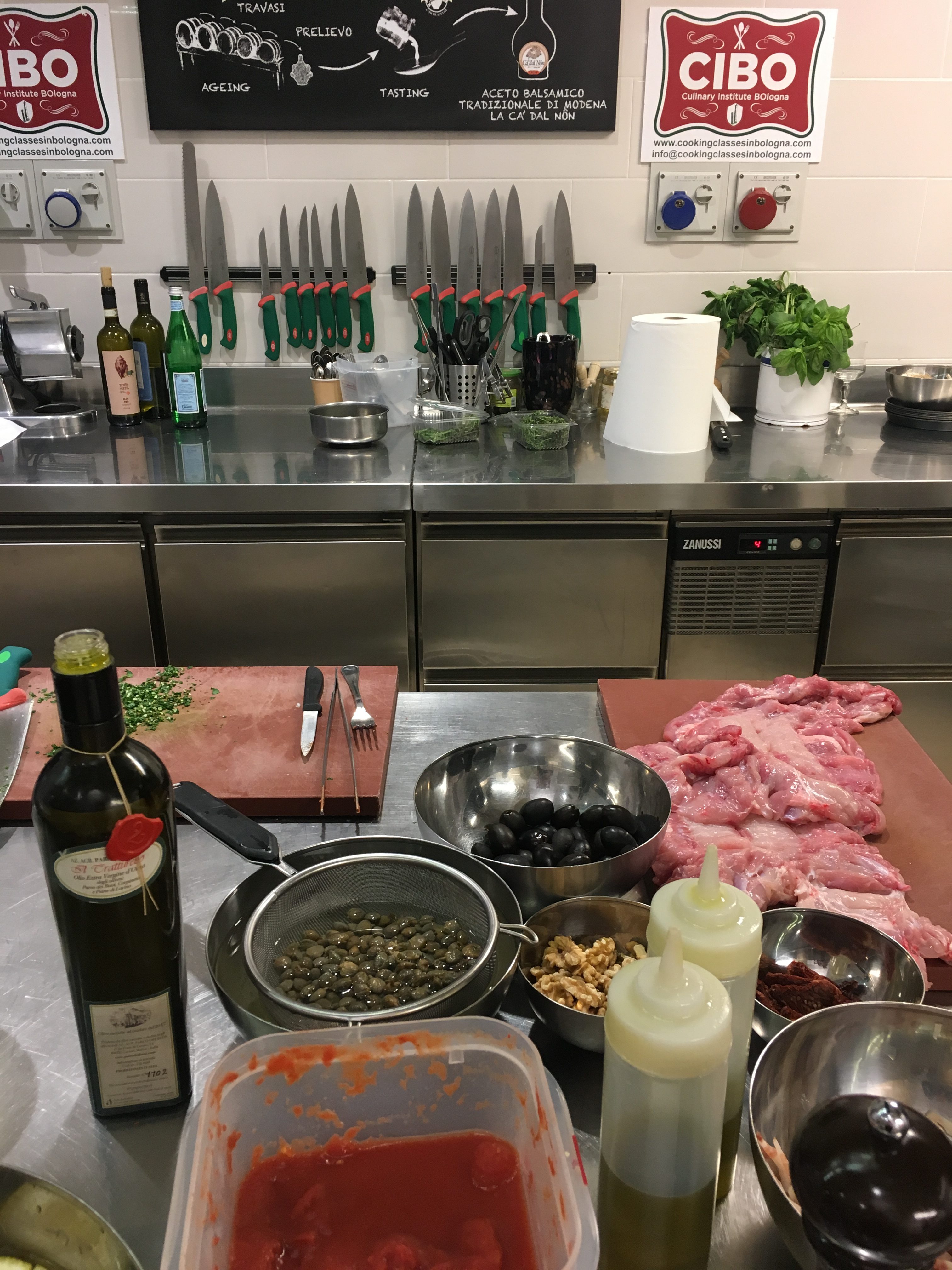 Just recently we were in Bologna with some friends and Stefano opened his kitchen for us and improvised a wonderful dinner with pasta e fagioli borlotti Bio Alberti and rabbit cacciatora agrodolce with La Ca dal Non balsamic saba 6, La Nicchia capers from Pantelleria, and Taggiasca olives. We even had birthday candles for Francine Segan's impromptu birthday celebration.
If you ever make a trip to Emilia Romagna (and you should!), make sure you pay a visit to Stefano and his Culinary Institute of Bologna, for a cooking class on fresh pappardelle pasta or a quick bite at the Bistrot overlooking the open kitchen.