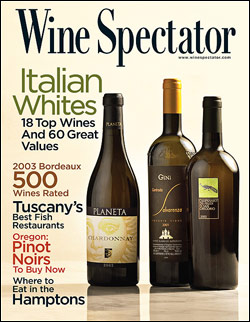 Michael, my husband and Gustiamo's senior advisor, is also passionate about wine and he religiously reads about it both online and in offline publications. He is a little backed up in his readings. Only yesterday, he was able to catch up with the October 2008 issue of Wine Spectator.
Thanks to Michael, I read an interesting article by Sam Gugino about Italian Olive Oils. Sam says that great Italian Olive Oils are made in Toscana but also in other many regions of Italy, including Basilicata. Bravo Sam! (not very timely, but still owed!)
Sam liked two olive oils from Gustiamo:
Fattoria Fazzuoli from Toscana: "For a more throat-grasping Tuscan experience, try Fattoria Fazzuoli".
Antichi Uliveti from Sardegna: "I liked the herbaceousness and cardoonlike bitterness of Antichi Uliveti".
Sam, in your article, you did not mention Molise, where Francesco Travaglini makes Tratturello, a spectacular olive oil with local Gentile di Larino olive. Would you like to try it?