Please, send us all your comments, bad or good. In his comments, Steven just told us he loved all our products but our olive oil was too expensive. He prefers another one at half the  price! This is what we found out about his preferred olive oil! Read the post, here.
On the other hand, he loved everything else. Below is what he writes: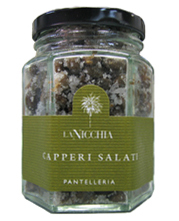 Lentils (organic lentils from Umbria): probably the best lentils I've ever had. Prior to eating your lentils we used to schlep all over the city to find Lentils de Puy, which are not nearly as toothsome as the Umbrian ones. Nice size package as well.
Capers in salt, from Pantelleria–I would swim from Sicily to get these. Outstanding. The price is irrelevant.
Pesto–Genovese from Liguria–this was so good we had to wave good bye to the jar when we finished it. Again, in these months we make our stuff fresh because of the farmer's market but I would gladly order again. At $30 I 'd say this was well worth the price.
Dried Pasta–can't remember the name but it was in a red box, 500 grams, and was excellent. We used it to make pasta con le vongole and it held its own and did not get lost in the sauce. It is the texture that is so outstanding. I am ordering the orecchiette now.
Salted Anchovies – the best I ever had.
Grazie Steven!!!
ps magic word is "steven". 15% off if you buy two or more of the products above. promotion until september 15th or until supplies last. and thank you!