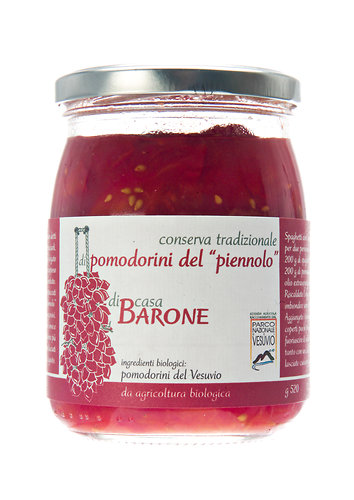 These tomatoes are jumping! The article in the New York Times by Florence Fabricant (click here if you missed it!) is inspiring: she says you can use them for pizza, pasta, on baked fish… and this BEAUTIFUL picture by Dan Neville, gives the jar of tomatoes a new light and life! Thank you both!!! The news spread fast; even Il Mattino, THE daily paper of Napoli, proudly announced that a Neapolitan local product, the Piennolo Tomatoes by Casa Barone, was mentioned in The New York Times.
We are all very proud!  We have been carrying the Piennolo Tomatoes for 10 (ten) years! It took some time but finally, they received the universal recognition they deserve!!!
The thing is: we are proud of ALL our producers, and their creations. ALL the products we represent in America are selected with the same attention and integrity. They are ALL great food and food that is good for you. You should try them ALL, even if they are not New York Times famous. Not yet, at least!
If you have questions, want suggestions of what to try in your next order, call us in the office (718 860 2949)! We'd love to tell you what is your next Piennolo Tomato!