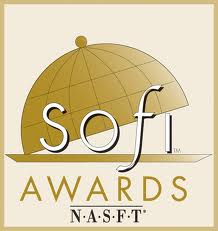 Getting ready to go to Washington DC, to attend the Fancy Food Show and to celebrate Pasta Faella, SOFI finalist as best product of the year. Their panel of food experts chose among nearly 2,000 products in 30 food categories. In the Pasta category, they chose Faella pasta, which is an incredible accomplishment. How many brands of pasta are out there??? Is this an indication that Pasta Faella is really really good?
As you can read on the Nasft website:  Made artisanally by the Faella family since 1907 in legendary pasta birthplace Gragnano, Pasta Faella has outstanding rich grain flavor and a porous texture that makes condiments cling beautifully. It's air-dried for at least two days, bronze die extruded and made with only the best durum wheat flour and local Lattari Mountains spring water.

When you submit a product for the SOFI awards, you also have to prepare all kind of technical and market information, including "preparation instructions". We wrote: "Instructions are given for one 500 gr (1.1 Lb) bag of pasta – Bring 4 quarts of water to a rolling boil, add sea salt to taste. Add pasta to boiling water. Stir gently every few minutes to separate shapes and cook for 13-15 minutes or until "al dente". Drain pasta and serve."
Hopefully we got the instructions right and we'll win!