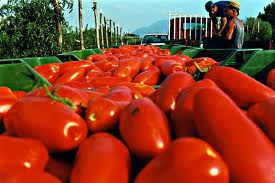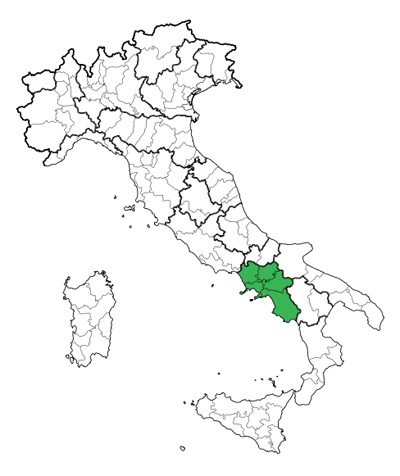 Il Miracolo di San Gennaro is a tomato grown by Sabatino Abagnale in Agro Sarnese-Nocerino (the proper DOP Area). It is DNA tested 100% San Marzano, and a wonderful product.
Sabatino's production of Il Miracolo is very limited, a few thousand tins and jars per year! These Miracolo have reached a cult status and despite its price (very expensive… don't even start!), they go very fast. Our yearly allotment which we receive in November is typically sold out by early in the new year. Sabatino, can you send us more?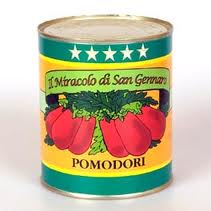 That being said, while Sabatino is a passionate and honest grower of tomatoes, his tomatoes do not perfectly follow the DOP rules and he cannot call them San Marzano. AND he DOES NOT call them San Marzano. As you see on the left, they are called just "Pomodori." Why? In a second. First, let me reinforce the concept that a name is important and although his tomatoes are San Marzano, he cannot and does not make any reference to San Marzano in the label. Does this send a signal to the industrial producer  of tomatoes that are labeled San Marzano but are FAKE?
Why Sabatino's tomatoes are not San Marzano? Because Italians have big egos and can't agree on anything! Sabatino cannot label his tomatoes San Marzano because he does not fully follow the rules dictated by the Consorzio San Marzano. Although Sabatino and the President of Consortium San Marzano only have praises for each other (true, I talk to them regularly), they can't seem to agree on several things: the type of seeds used (Cirio 3 for DOP, Smec 20 for Sabatino); Sabatino's tomatoes are not peeled (DOP must be peeled)… and who knows how many other little differences. This is one more demonstration that Italians can't work together; even good people (and we are talking about the BEST people in this industry) can't reach an agreement.
Confusing? You bet! The point is Sabatino makes his non San Marzano/beyond San Marzano tomatoes his way and doesn't try to take advantage of the San Marzano name. And they are so few, it's not even an issue. Trust us, they are a Miracle! Buy 'em before we run out!