Last Saturday, we opened the doors of our warehouse. We had been preparing for days; in fact, it looked really beautiful! We had so much fun, we met so many interesting friends, everything went smoothly. We liked it so much, we are thinking of doing it twice a year. June 30th, 2014 looks like a possible date. Not sure, but mark your calendar.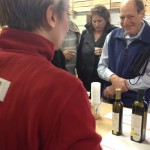 Everything we did was of the highest level of quality: The Olive Oil tastings lead by Alice were extremely interesting (of course, she is a PhD in EVOO!); We tasted the most exquisite Panettone and Pandoro in the world; We had freshly baked bread with Gianduia Spread and Sicilian Orange Marmalade; Ohhh and the coffee… We must have gone through a dozen tins of Sant'Eustachio coffee, always fresh, on the table.
Not only food: we had Italian background music, selected by Eddie. All kinds of genres, from opera to Andrea Boccelli, to Lucio Battisti, to Neapolitan songs… still wonder how a kid from Pennsylvania was able to find Celentano "ventiquattromila baci"!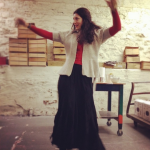 Not only food! We even learned to dance "La Tarantella," courtesy of our friend Allison Scola who is a pro at this Neapolitan popular dance. She even brought her own music. And we learned and we danced. It was good, after all that Panettone, we needed some running around.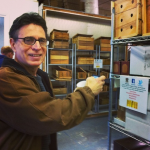 It was great to see all our friends becoming impromptu reporters and taking pictures for our contests on Facebook, Twitter, and Instagram. #GustiOpenWarehouse #SmallBizSat #ShopSmall They will win the full collection of Pasta Martelli!
So much fun! We really wish all of you were there. Please, mark your calendar and make sure you come (or come again) to our next Open Warehouse.