Writing from Roma, where I've been spending a few glorious days. I'm glad to report these 2 new entries, at least new to me: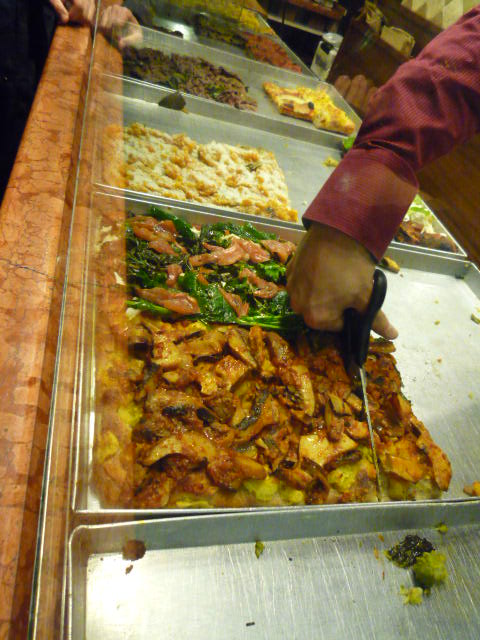 Pizzarium in via della Meloria, which is near Via Candia, across the street from the Cipro subway station. The entrance of the place, which is miniscule, is even hidden by scaffolding, these days ; it's like a treasure hunt. And what treasure!!! Pizzarium serves pizza as the name suggests. Sublime pizza with the most amazing combinations of fresh and best ingredients. But don't think it is one of those fancy places we have become accustomed to in NY lately. This is "pizza al taglio" as the picture on the left shows. They literally CUT the pizza with the scissors. No tables, no nothing. Just a huge line in and outside Pizzarium which proves that quality pays, despite the high price. When I went yesterday, Gabriele Bonci, the master pizzaiolo, had left for the day. One more reason for me to go back. I want to meet the man in person and hear from him the secret of his success.
Tip if you go: working hours are all day until 9pm. I went at 8. Wrong! Try to go around 6-7. Bring the pizza home, heat it up in the oven and have it for dinner with your best bottle of wine or beer. Enjoy!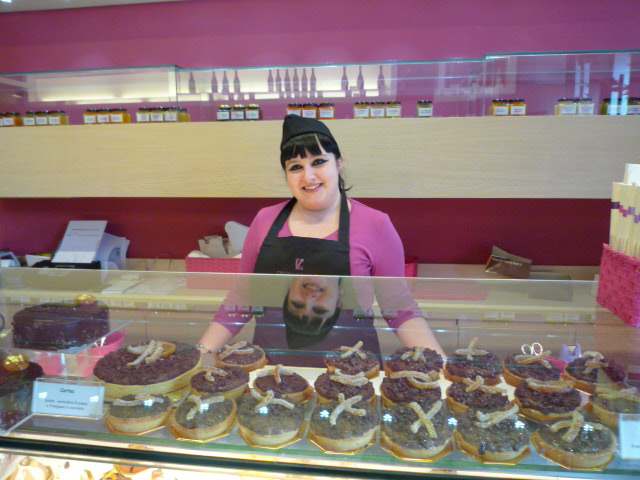 My second huge discovery in Roma is Cristalli di Zucchero, a pastry shop in the central area of Circo Massimo, across the street from the church Sant'Anastasia. Pastry chef and owner is Marco Rinella, continuing his family tradition and passion (his grandfather became a baker in 1920!). From the picture you can see only one kind of cake, but the selection of pastries and pralines  in the small and tastefully decorated shop is amazing. I cornetti are out of this world.When I went to visit Cristalli di Zucchero, Marco was not in the shop. Once more, it means I must go again. Can't wait.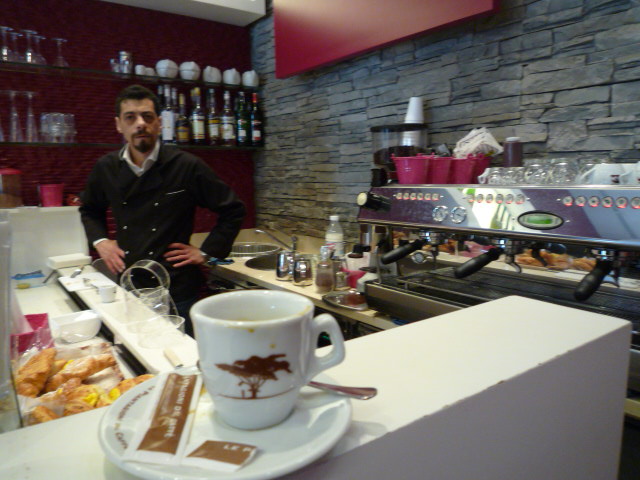 Tip if you go: have a cup of Cristalli di Zucchero wonderful coffee! It comes from Le Piantagioni del Caffe' (aren't short names in fashion in Italy, anylonger?), a small company in Toscana. Cristalli di Zucchero uses their coffee. (Left is Tony, the master barista) In particular, they use San Luis-Raigode, which is a blend of 75% arabica and 25% robusta coffee beans. San Luis is a plantation in El Salvador and Raigode is located in Kodagu, India. Too much information? Don't worry, just enjoy this wonderful coffee.