Chef Massimiliano Alajmo (my hero!) gave a demonstration at the Italian Cooking Academy. Although Massimiliano's English is perfect, at his side Marisa Huff, his American assistant who lives in Padova, was a perfect translator and interpreter of Massimiliano's world/words.
Massimilano is such a great chef, it would have been nice if more of his peers attended the lecture. Somebody in the audience did not even know who Massimiliano was and those who love him and his restaurant felt embarrassed at one person's persistent questions about how much a dish or a meal would cost at Le Calandre. Massimiliano is a gentleman and always was able to avoid answering. His dishes and meals are priceless.
The lesson was source of inspiration when he mentioned and explained the guiding principles of his cuisine: lightness, depth, fluidity.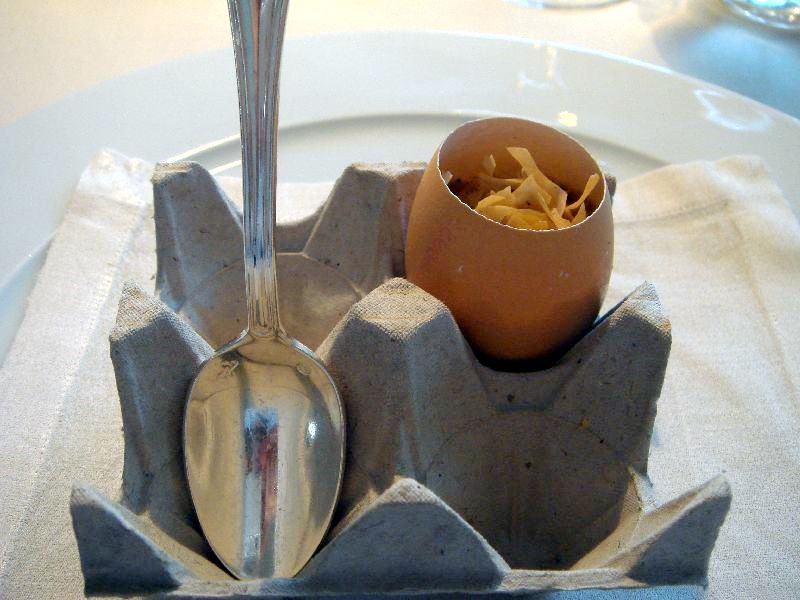 He then started to cook magnificent dishes, like langoustine on a bed of foam from fava beans (dairy-like but no milk); linguine made with mozzarella; pigs' cheeks with a broth; carbonara without pasta served in an egg shell; risotto with foie gras…While cooking for us mortals, he even gave tips, for example: when you cook a tomato sauce, EVOO, garlic (take out the green heart of the garlic, first – remove the garlic before it browns), put first the tomatoes and then the sauce (different cooking time) and cook for only a few minutes; for risotto (he said no aged rice for risotto – I didn't understand why) is very important to toast the rice well and you should add the stock not in the middle but around the pan. Bravo Massimiliano: we learned well; we ate even better!