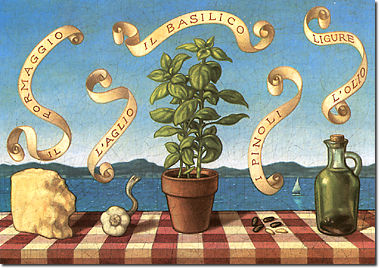 Pesto alla Genovese by Casa Lombardi just flew in,  travelling first class. It deserves all this attention because it is different than any other pesto sauce you can find in the market. As it is fresh, it needs to be kept refrigerated. The Lombardi family only uses the best ingredients: [reading the label] EV Olive Oil, parmigiano aged longer than 36 months, pecorino romano DOP, pinenuts from the pine forest of San Rossore, a natural reserve, and the famous basil from Pra (DOP genovese), the village near Genova where pesto sauce was invented.
Recipe: bring the pesto to room temperature, cook pasta (better trenette or tagliolini – but any shape will do), drain, open the jar, pour the content of the jar on the pasta and mix. If you are able to turn on the burners on your stove, you have no excuses. You can serve a beautiful plate of pasta, feel proud and make four people very happy.
PS If you want to get fancy and emulate the Genovesi, after you put the pasta in the pot and the water starts boiling again, add string beans and potato cubes. The starch from the potatoes and the crunchiness of the string beans add a great texture to the dish and makes it sublime.