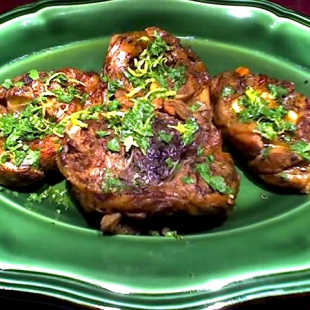 Did anybody see the Summer, this year? I was freezing this past Friday morning, when I went to shop at my local green market. I bought $100 worth of various frozen meats, including beef shanks, from a new vendor, Sun Fed Beef. I guess it's time to pull out our Fall recipes – I was craving for Ossobuco. Ossobuco should be made with veal shank, but veal is not politically correct. Use the beef, instead; it is equally delicious.
There are many Ossobuco recipes on the Food Network including this one by Tyler Florence, Osso Buco Milanese, awarded with 5 stars. I wasn't sure whether I should use it: the recipe looks a little complicated, asks for a lot of ingredients, it sounds suspicious because Ossobuco is one word in Italian and it mentions something called Gremolata, which I never heard of before. So I reverted, as I very often do, to my trusted Talismano della Felicita', the cook book used by our mothers. My Talismano was printed in 1975 (a modern edition, I guess) and was passed to me by my mother, a great cook. Ossobuco alla Milanese from the Talismano della Felicita', is a very simple recipe. (Gremolada is not mentioned in the recipe nor in the whole book). Click here for the authentic Ossobuco alla Milanese recipe, adapted from Il Talismano della Felicita'.
The Ossobuchi (somebody writes Ossibuchi… I don't think so) came out delicious, accompanied by some just steamed vialone nano rice. Simplicity always wins.