Five years ago, if you had told me, or anyone, that my job would require me to talk about the "grassy artichoke" notes of Sicilian EVOO compared to the "fruity almond" flavor of Sardinian EVOO, I'd of called you a quack. And yet here I am, in the Bronx, at Gustiamo where I spend my days discussing pasta shapes all day, along with all of Italy's Best Foods. To share my new found fortune, I returned a few weeks ago to my alma mater, Bucknell University, to share with all the aspiring studenti d'italiano my experience and give them some tips for life post graduation.
While I was there, when I wasn't busy raving about stories of all the amazing Italian food I get to eat, we discussed the global relevance of working in a good food business like Gustiamo. One of my professors noted how enthusiastic he is that I use my Italian and knowledge of Italy to support sustainable agriculture and wholesome, delicious, authentic food.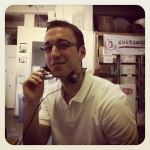 Another professor reacted ecstatically when she learned that Gustiamo offers many products from the region of her birthplace, Campania. I guess they taught me well! Many students also expressed interest in my story, and one in particular stuck out asking "how did I know I would end up working at Gustiamo?" I told him frankly that I may not have known how to connect the dots from the classroom where we were (and how many students do these days?), but combining my education and passion with a willingness to seize each opportunity made me believe that it was only a matter of time. "La vita e' bella" after all!