Here at Gustiamo we're all about supporting artisanal Italian producers, but we're also committed to making a difference on our home soil in New York. When these two core values come together, it's really something worth celebrating! Who would've thought two 500 year old olive trees in Molise could help combat food waste and food insecurity in New York?
That's why this collaboration between ourselves, Il Tratturello EVOO producer Parco dei Buoi, Ghetto Gastro, and Chef Massimo Bottura's non profit organization Food for Soul means so much to us. Born during the 2021 olive harvest at Parco dei Buoi, we all came together to produce, import, and distribute 154 of limited-edition EVOO bottles titled PRESSURE. This oil is pressed exclusively from the hand harvested olives of the ancient Leone di Carpineto trees at Parco dei Buoi, so it's really something extra special. All 154 bottles of PRESSURE sold out within weeks, and now 100% of the profits are going directly to the Food for Soul Refettorio in Harlem!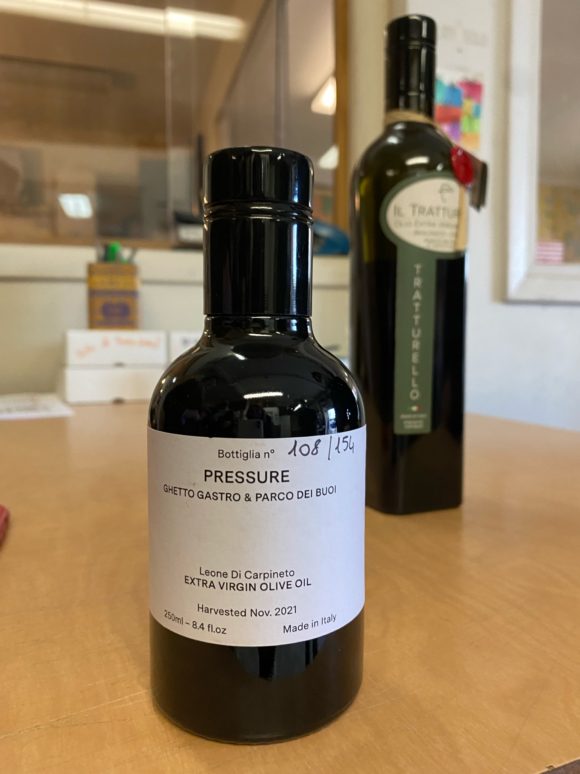 We held a celebration ceremony at our warehouse, with Francesco Travaglini attending virtually from Molise. Jill Conklin, Chef Elizabeth Richards, and Pastor Mootoo came in person to the warehouse on behalf of Food for Soul, where they accepted a check of $6000. We're so honored to be a part of this project and we are so thrilled with the results. GRAZIE MILLE to everyone who ordered a bottle of PRESSURE, good food for good people!
The Harlem refettorio is set to open this spring. It will be open to events, workshops, culinary experiences, and food assistance initiatives to nourish and support the most vulnerable populations of Upper Manhattan. Read more about the Ghetto Gastro x Gustiamo x Food for Soul collaboration here.