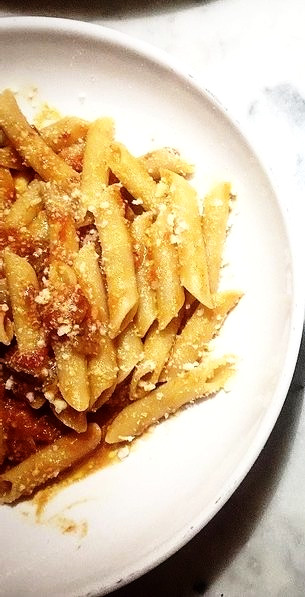 Here at Gustiamo we believe that food is more than just eating, it's a social/cultural act. That's why we are so excited to be working with Roman's in Brooklyn on their angry pasta dish. For the month of February Penne all'Arrabbiata is on the menu. And when you order this dish, all proceeds are donated to Planned Parenthood.
Where are the penne from? They were donated by Gustiamo and Pasta Faella. We love Chef Dave from Roman's, he pays such careful attention to his sourcing. In fact, this Arrabbiata sauce is made with REAL DOP San Marzano Tomatoes.
Roman's is part of the collection of sanctuary restaurants. "Sanctuary restaurants have a zero tolerance policy for sexism, racism, and xenophobia, and believe that there is a place at the table for all." Andrew Tarlow of Roman's explains to Melissa McCart for Eater: "To be a sustainable business, means committing to employment practices that sustain our community."

This dish could not be anymore perfect for the occasion. It tastes angry, in fact arrabbiata means angry in Italian.  Penne all'Arrabbiata is a classic Italian pasta dish that is spicy and fiery. Don't be surprised if after eating it, you get all fired up. This dish has been known to inspire revolutions!