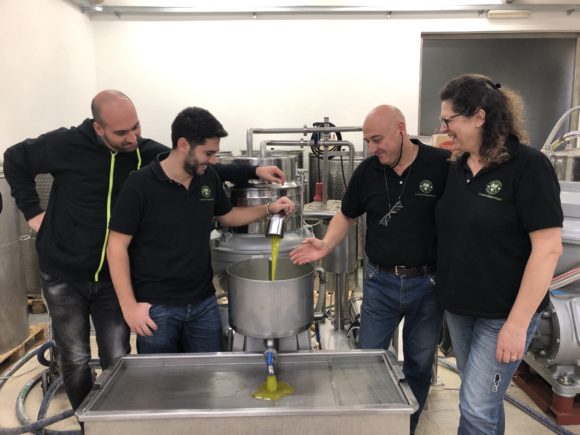 PRESENTING QUINTA LUNA, FROM UMBRIA! QUINTA LUNA EVOO IS MADE IN THE TOWN OF TREVI BY THE GAUDENZI FAMILY. THAT'S THEM (↑) AT THEIR MILL. THE 2019/2020 HARVEST IS HERE. IT WAS MILLED JUST A FEW WEEKS AGO.
THIS IS A BIG DEAL. IT'S BEEN 15 YEARS SINCE GUSTIAMO HAS CHOSEN A NEW OLIVE OIL PRODUCER TO JOIN THE GUSTI FAMILY. FIFTEEN YEARS.
WHY SO LONG? BECAUSE WE ARE DEDICATED TO OUR OLIVE FARMERS/MILLERS. PART OF THE GUSTIAMO MISSION IS TO CONTRIBUTE TO OUR FARMERS' LIVELIHOODS. WHEN WE CHOOSE A NEW OLIVE OIL, WE COMMIT TO THE PEOPLE WHO MAKE IT.
WE HAVE BEEN GETTING TO KNOW THE GAUDENZI FAMILY FOR THE PAST 3 YEARS IN ANTICIPATION OF THIS BIG DECISION.
WE COULDN'T BE MORE DELIGHTED. THE GAUDENZI FAMILY RUNS AN HONEST AND TRANSPARENT OLIVE OIL PRODUCTION. THEIR TREES ARE BEAUTIFUL, THEIR MILL IS TECHNOLOGICALLY NEXT LEVEL. THEIR OIL HAS PERSONALITY, BALANCE, AND IS CHARACTERIZED BY RARE AND EXCITING UMBRIAN LOCAL VARIETIES.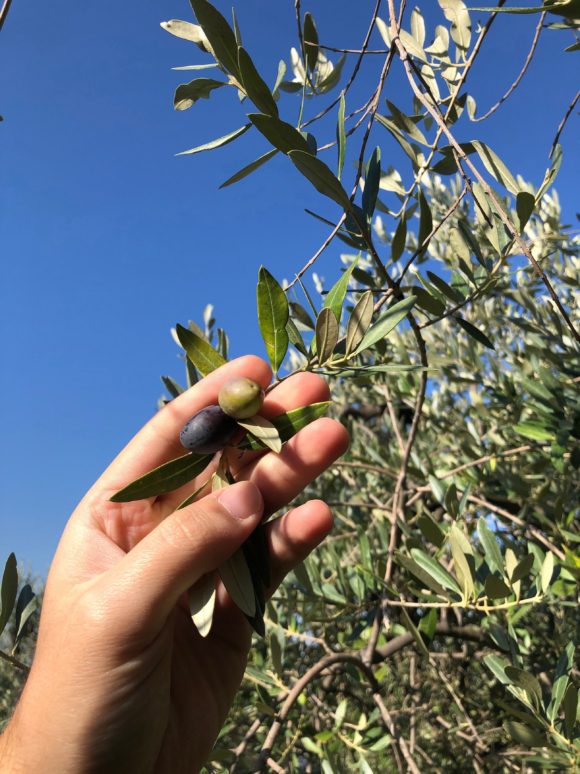 THE BLEND OF OLIVES USED IN QUINTA LUNA MAKES THIS OIL SPECIAL.
The

Moraiolo

Olives give artichoke aromas.

The

San Felice

olives add complex green + floral notes.

The

Borgiona

olives add a gentle hint of tomato leaf.

The

Dolce Agogia

olives bring warm and mellow notes.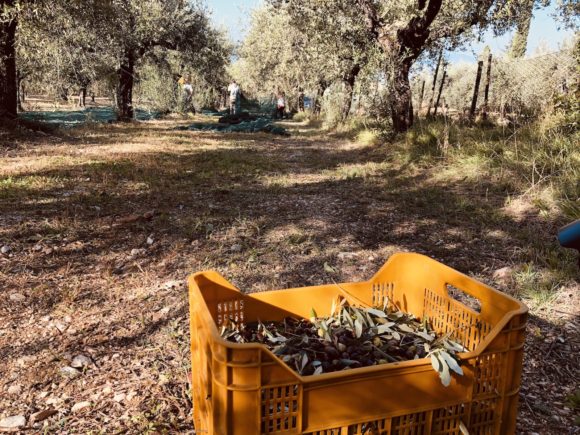 Quinta Luna means "fifth moon" and it refers to the harvest SCHEDULE. the olives used for this oil are harvested five moon cycles after the blossoming of the olive trees. That's a month earlier than Most Umbrian extra virgin olive oil!
The 2019/2020 Quinta Luna tasting notes:
AROMA
Freshly cut grass

Black pepper

Artichoke

Raw bitter almond

Chicory

Rosemary

Tomato hint
PALATE
Balanced and Intense flavor profile

Medium bitterness and spiciness

Coats your palate with a long finish