Our very own Beatrice was interviewed by Food & Wine Italia for the 2022 TASTE expo that will take place in Florence from 26th to 28th of March. You can read the original Italian interview here.


Buyers Select: Beatrice Ughi – Gustiamo (United States)

Food & Wine Italia's editorial series "Buyers Select" shines the spotlight on the international buyers working to promote Italian culinary culture abroad. In these interviews, key players from TASTE's international community share their stories and thoughts on the food and wine market.
Beatrice Ughi of Gustiamo has worked in the United States for over twenty years. Her main objective is to the raise the bar when it comes to the quality of imported italian food, and, above all, to defend the culture of the "buona tavola". She chooses her products not only based on their quality, but also on the sustainability, artisanality, transparency, and ethics of their producers. We asked her a few questions to better get to know Gustiamo, to find out how they are preparing for TASTE, and to discover what links Gustiamo to the Florentine exhibition.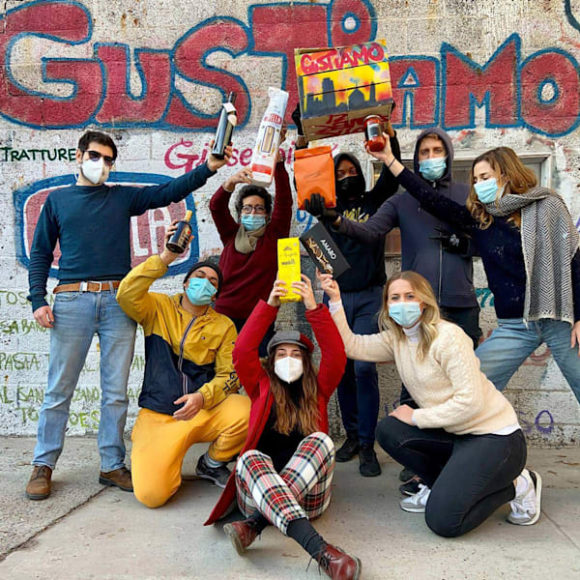 F&W: Who do you think are the five most interesting exporters at Taste and why?
Beatrice: The five most interesting producers for us are already a part of the Gustiamo family. We have the great honor of representing them in the US: Bio Alberti, Pastificio Faella, Maida, Marco Colzani, and Sapori Vesuviani.
F&W: When was your company founded? How would you describe its activities today?
Beatrice: Gustiamo was born in 1999 in the Bronx as an e-Commerce business. You could say we were the precursors to online shopping. We choose the most excellent products of Italian gastronomy, real food from honest producers, and we import them into the USA.  We have the same values today as we did 21 years ago. Our mission is still totally in line with the principles that inspired the creation of Gustiamo.
F&W: Who are your typical clients? Is your activity more oriented towards B2B or B2C?
Beatrice: Gustiamo's activity is divided equally between online and offline sales, which for us represent the B2C and B2B markets, respectfully. We sell all across the United States.  Our typical client in both the retail sector and in the HORECA industry is very similar: curious, attentive Americans who know and have a lot of respect for Italian culture, and who fell in love with our cuisine while traveling in Italy.
F&W: How has the view of Italian cuisine and its products changed overseas? How is it different from the view of local cuisine and products?
Beatrice: Italian cuisine is becoming more and more known and appreciated by the American public. However, counterfeit products are on the rise. The notorious "italian-sounding" names saturate the imitation market, with disingenuous products profiting from the positive image of good, authentic Italian food.
F&W: What is an Italian product little known in your country, but that merits an introduction?
Beatrice: It would be awesome to introduce more artisanal Salumi, which represent a great heritage of Italian traditions. For now, the American market imposes severe bureaucratic limits which leave little space for small producers.
F&W: Have you recently noticed a particular interest in sustainability? Both in environmental/ethical and economic terms?
Beatrice: There is a great interest in the stories behind ingredients and the underlying production process. In particular, there is a concern for the environmental impact of our diets and for the well being of laborers. In this domain, we have to be wary of promoting falsehoods. All claims, logos, and certifications must be supported by facts.
F&W: Do you have any thoughts on future trends in the food and wine market?
Beatrice: Undoubtedly online sales will continue to grow exponentially. It will be important to keep up! The challenge of the coming years will be to reach clients as quickly as possible, to constantly reduce the distance between the person ordering and the person selling, and to improve the so-called immediate satisfaction.
F&W: What are the distinctive elements of TASTE compared to other events of its type? How important do you think it is to return to in-person events?
Beatrice: The main quality that distinguishes TASTE is the attention to detail. What really makes the difference for us is the extremely rigorous selection of exhibitors, who must uncompromisingly meet strict criteria. Meeting people in person is not only important, but essential. These are passionate artisans who have dedicated their lives to their products. There's no substitute for direct human contact when it comes to the stories of these producers.
F&W: Favorite spots at TASTE: what is your favorite restaurant (or bar, bottega, enoteca etc…) in Florence?
Beatrice: Ino by Alessandro Frassica. He is a friend with whom we share so much, from how we choose the businesses to collaborate with, to our passion for story telling. Since time immemorial Ino has been a treasure trove of exceptional ingredients, to be tasted in his fantastic sandwiches!