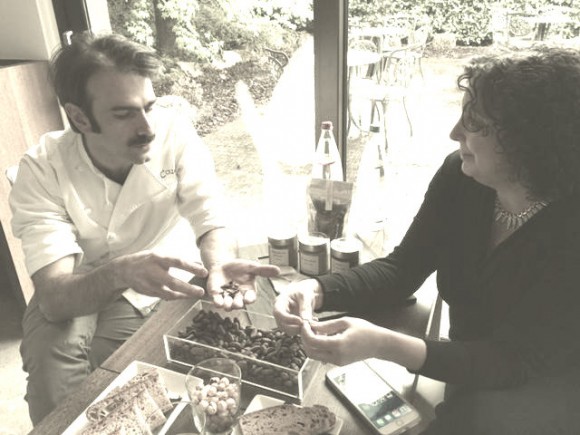 Our friend Terry aka Culinest went to Lombardia to talk chocolate with Marco Colzani! Marco, of course, is our master chocolate maker. He makes bean to bar chocolate as well as sweet spreads (have you tried his pistachio yet?!). She had a beautiful visit with Marco. Here are some of the highlights of their conversation:
" [Marco says] When it's good enough to be eaten as-is, don't fuss with it and ruin it. But most importantly – have respect for the raw materials… Making chocolate is very similar to making wine. It's all about respecting the ingredients while managing the acidity, fermentation, sugar, aroma and blend. In wine, it's 70% terroir, 30% genetic. In chocolate, it's 50 / 50…
Marco sees his job as "respecting the different origins" and handling the terroir and genetics of each raw material. Unlike most American chocolates, Marco's do not contain soya lecithin or vanilla, and only use two ingredients: 1. Cocoa beans he imports, hand selects and roasts based on the seasonality, crop and country of origin, e.g. Peru, Cuba, Ecuador, Trinidad, San Mateo, Dominican Republic and Venezuela 2. Cane sugar – only for sweetness, not aroma, so he imports raw cane sugar with low molasses from Madgascar and South Africa…
To order Marco's incredible bean-to-bar chocolates in the US, as well as his outstandingly natural Pistachio Spread and Hazelnut Spreads (you'll never eat Nutella again) – click here for Gustiamo's items – and let me know what you think! Big thanks to Beatrice Ughi of Gustiamo – Italy's Best Foods – for connecting me with Italy's Marco Colzani!"
Read the whole article on Terry's blog, here.