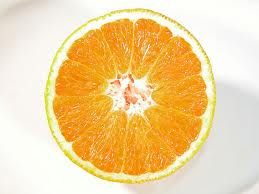 Please welcome Casa Barone's new baby, Arance di Sorrento's jam. This is not just your ordinary orange jam: These oranges are the famous "Bionda di Sorrento", a cultivar grown since 1300 on the Amalfi Coast and on the Mount Vesuvio slopes, where Casa Barone organic farm is located. The scant rainwater and the lava soil, rich in minerals, produce medium sized fruit of a bright orange color, intense aroma, juicy flesh and incomparable bitter-sweet flavor.
Casa Barone's "Bionda di Sorrento" oranges are washed and peeled by hand. The pulp is extracted manually and mixed with small pieces of rind, lending the marmalade a pleasant texture and a flavor never too sweet. Only the minimum amount of sugar is added during the slow cooking process.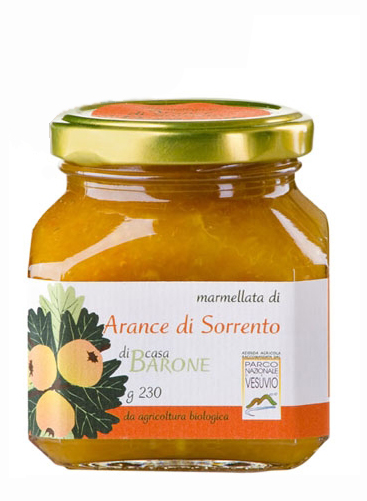 Yoy must try this wonderful jam! Open the jar, smell the aroma, have a spoonful, listen to Andrea Bocelli sing "Torna a Surriento" (come back to Sorrento) a world famous and much celebrated song of the early 1900s. (Click here for the song). It starts "Vedi 'o mare quant'e bello? …Siente, siè 'sti sciure 'e arance: nu prufumo accussì fino… dint''o core se ne va…" It means: smell the fragrance of the oranges, such a strong fragrance goes straight to your heart. This song is beautiful and makes you dream to be in Sorrento. Ready to book your flight? While doing so, have another spoonful of bionda oranges, close your eyes and you are already in Sorrento!