Castelvetrano olives are one of Italy's most popular olive exports, and for good reason! Their irresistible buttery flavor and meaty texture really make them stand out in the olive crowd. But not all Castelvetrano are created equal. In fact, many of the Castelvetrano you come across in grocery store olive bars, on restaurant cheese boards, and in fancy martinis, are imposters.
First sign of fraud? The color. If the green is too shockingly bright to be true, it's because it's fake. Some "Castelvetrano" olives are imbued with an artificial green colorant to make them stand out. We're shocked these deceptive olives can be sold!
Second sign to look for? Variety. True Castelvetrano olives belong to the olive cultivar Nocellara del Belice and are grown and harvested in Sicily.

Now that you've got the basics, what makes a truly exceptional Castelvetrano olive is its producer. In our case, we look to Lorenzo Piccione, our olive expert of Pianogrillo farm in Chiaramonte Gulfi, Sicily.
Each year, he heads over to the best olive groves on the island to select the Nocellara del Belice olives destined to become Pianogrillo's Castelvetrano. We had a chat with Lorenzo himself and asked him what's so special about his Castelvetrano olives.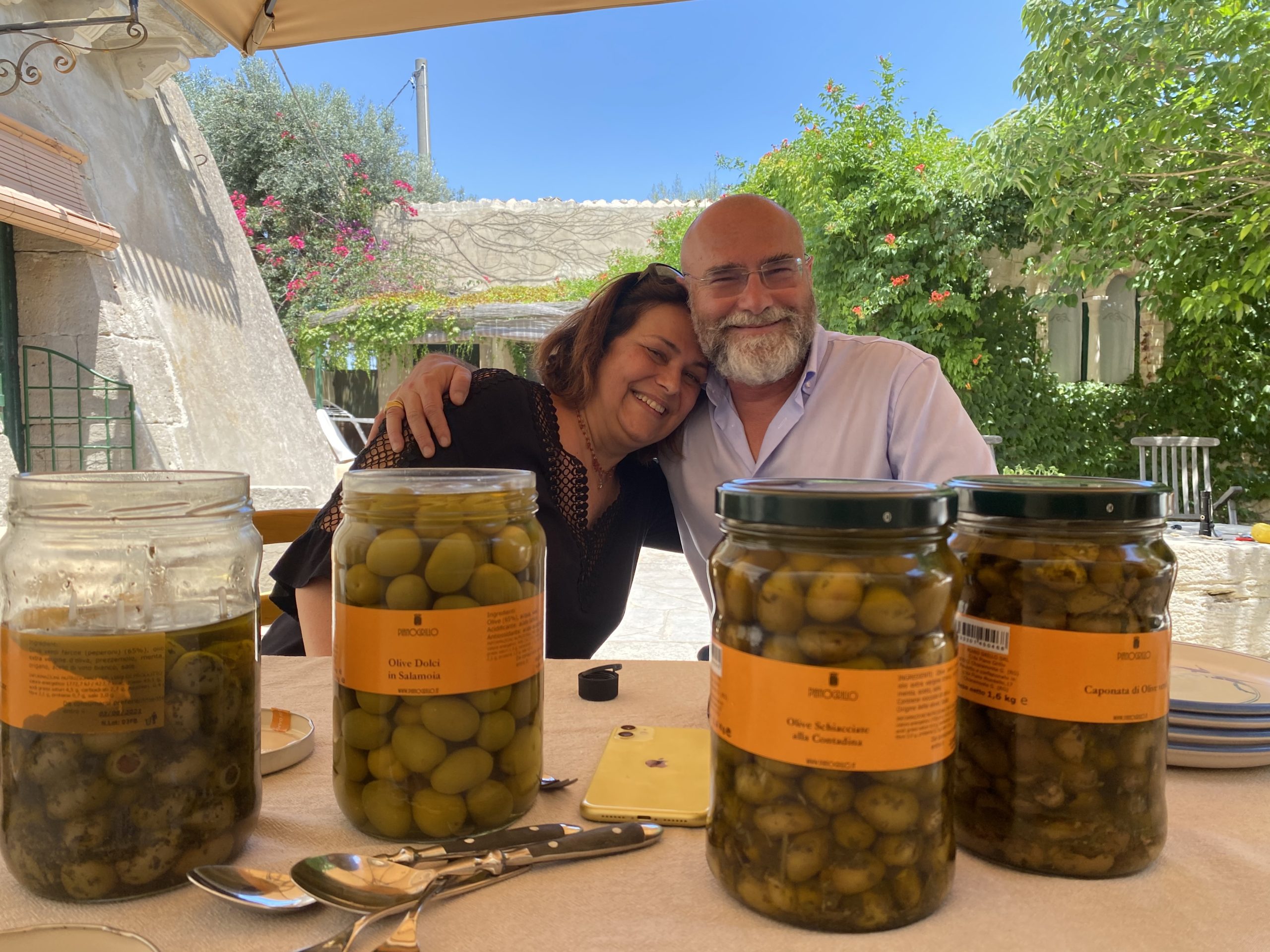 How do you choose the farmers you work with?
"During the summer and right before the fall harvest, I seek out my friends in the Castelvetrano region with groves of Nocellara del Belice. I choose the olives of highest quality, and then send them to the laboratory next to my mill, where our cherry tomato sauce and tomato paste are also produced. I know every single farmer personally, and they know me! They know I won't settle for anything less than the best olives they harvest each year."
You prepare 3 different versions of Castelvetrano olives, what's your favorite way to enjoy them?
-> In Salamoia : "I rinse the olives in water and then marinate them with whatever I have lying around the house. Oregano, chunks of red pepper, diced onion, peperoncini…. then I add some olive oil. The olives will keep this way in a jar for many months. I use my Pianogrillo olive oil, but you could even choose an EVOO from a different region to play around with the aromas."
-> Caponata: "Perfect for cooking! A fantastic accompaniment for chicken or rabbit, but also incredible with pasta. Prepare the tomato sauce for your pasta, then add two spoonfuls of Caponata (without too much oil) over low heat. It's a flavor bomb."
-> Schiacciate: "Always on my aperitivo platters. Such a crowd pleaser!"
So there you have it. To be sure you've got the real deal when buying your Castelvetrano olives, first check the color and the variety. But perhaps most importantly, go with a producer you know and trust. For us that meant Lorenzo at Pianogrillo, we know he only works with the best olives he can get!