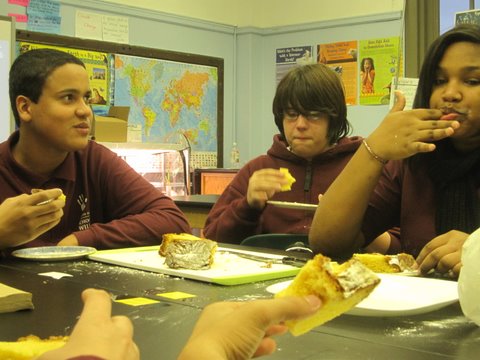 After months of planning, Gustiamo partnership with Slow Food and the Urban Assembly School for Wildlife Conservation in the Bronx finally came to life.
One has to worry a little when the group is made of teenagers… even We almost forgot how good food and communal cooking  are  immediate aggregators! Our  first visit brought an end-of-the-school-day, chair-dwindling,  group of teenagers enthusiastically together in the perfectly orchestrated execution of a classic gustiamo Farro Salad (all gustiamo ingredients – minus the fresh basil – grown in the classroom greenhouse).  Farro salad – who would think this could be a teenager crowd pleaser?? Wrong. Skillful chopping, attending to the water, tasting farro for doneness, should I dare try the capers which I've never seen before?? When all was done, a curious student team only needed take a bite, to dig into the bowls of farro and make it disappear in seconds. (A map of Italy projected on the wall set up by Alex who is teaching the program helped with products origins).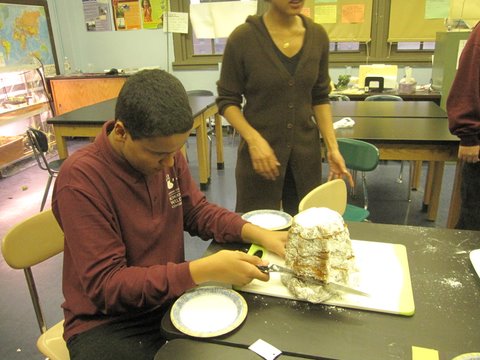 Teachers, the school principal and other students happily dropped by to taste the results of the joint effort and the atmosphere turned very festive and creative. Alex the teacher made sure dishes were washed and cleaned and put away before the Big Moment the class had been waiting for: the unwrapping of the Pandoro. White sugar trick, knife skills applied to make it look a tree, gone in seconds… no problem, it's good for you. Inevitably they think working at Gustiamo is all about eating and socializing around the stove and want to work with us. Sorry to break it to you: a Gustiamo site visit will be next, get ready to pick and pack!