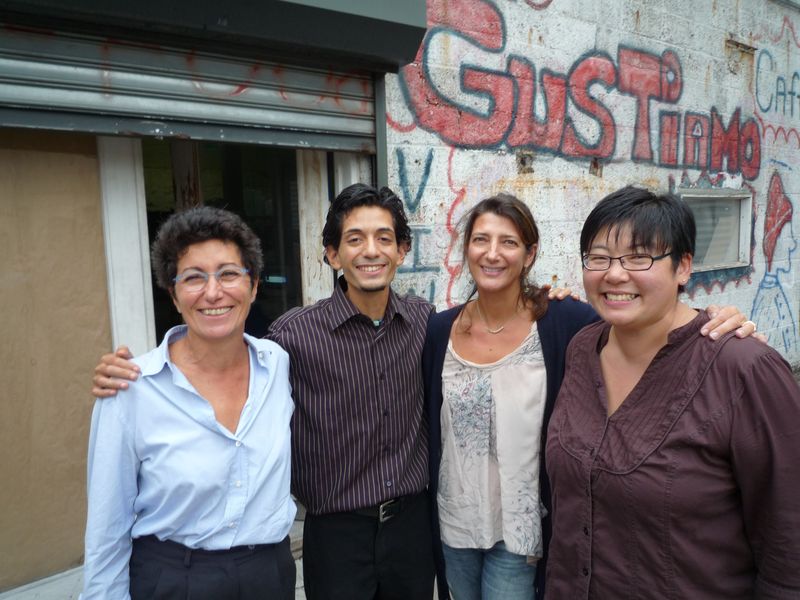 Good food helps grow beautiful body and minds: the School for Wildlife Conservation (WLC), Slow Food and Gustiamo come together in a partnership to bring good food education in a Bronx public school. A year long program of hands-on fun in the kitchen for teams of budding chefs who will prepare, cook, taste-test, discover foods and bring their new skills home.
From left: Beatrice, Alex Rodriguez, Martina and Lily Ng. Alex and Lily are from the School for Wildlife Conservation (WLC), in the Bronx, which falls under the umbrella of Urban Assembly, a group of 20 small public schools in the NY metropolitan area which are financed by the Melinda and Bill Gates and other foundations.
Lily is one of the administrators and the partnership coordinator of the school. Thanks to her dedication, this program saw the light. It is called Harvest Time and will see 12 kids from WLC learn and play with foods. It's a partnership among the school, Slow Food and Gustiamo.
Alex is a Science teacher at WLC, specialized in climate change issues. Alex loves dancing (techno music) and martial arts (he told us that anything that moves is martial art, including tai chi); he is vegetarian and wants to start his own bee hive on his terrace in the Bronx. He is excited to be the leader of the Harvest Time program which will also include the Teen Iron Chef competition. Alex can't wait for Harvest Time to start. Neither can we! Thank you all! Let's the fun begin!!!