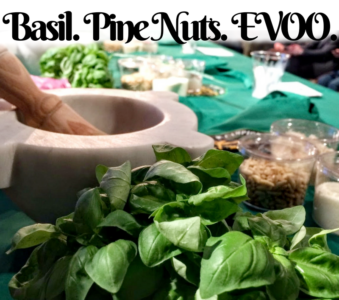 Ciao from Italia! We just attended our favorite annual food show, Taste, in Florence.
While there, we got to help out with the elimination round of the 8th Annual Pesto World Championship. In fact, our Beatrice was asked to be a judge.
AND *attention future contestants* if there ever was a person judgmental about pesto, it's our Beatrice.
According to Beatrice, Classic Pesto Genovese should be:
Fresh + bright tasting
Never bitter or minty
Umami, but not cheesy
Not too garlicky
The pesto competition was a blast. NYC's own food-writer extraordinaire Paul Greenberg proved to be a pro with the mortar + pestle. He came in 3rd place.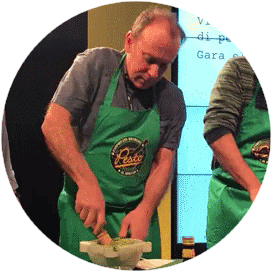 Beatrice's comment about his pesto: "Buono, ma troppo aglio."
Paul, lay off the garlic!
Of course, nothing compares to the perfection of Roberto Panizza's pesto.
Roberto is not even allowed to participate in the competition, to give up-and-coming pesto makers a chance.
Roberto's pesto is the ultimate, a creamy blend of the best Italian ingredients: from pine nuts to pecorino.