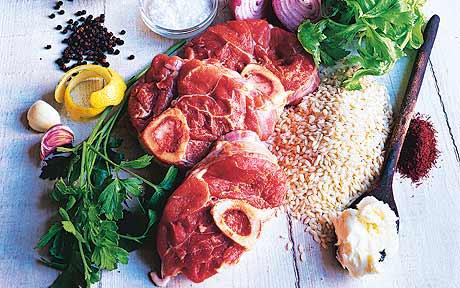 Ingredients:
4 pieces veal or beef shank; 2 tablesppons ev olive oil; 1/2 cup flour; salt and pepper; 1 cup dry white wine; 1 cup water or homemade chicken stock; final touch: grated rind of 1 lemon, 1 garlic minced, 4 anchovies, parsely, all chopped together.
Dredge the shanks in the flour. In a large heavy skillet, heat the oil and brown the shanks on all sides, add salt and pepper to taste. Add the wine and the water/stock. Reduce heat to low, cover and cook (1 hour – 1 and 1/2 hour for veal; 4+ hours for beef ) until meat is tender, but not falling off the bone. Turn the shanks a few times. 10 minutes before done, remove the cover, make sure the liquid is almost all absorbed (if not, you know what to do), increase the heat and add the "final touch". Turn to shanks so they can absorbe the "final touch". Serve immediately.
This recipe has been corrected with the help of Michele Scicolone. Thanks.