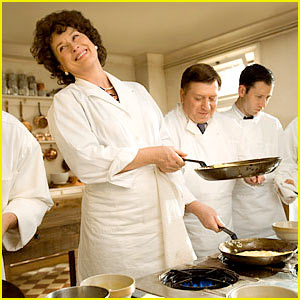 At the end of the movie, the audience claps as a sign of appreciation. The woman next to me turns to me and exclaims, like we are best friends: What a Delight! Indeed, I replied with a big smile! Merryl Streep's performance is outstanding and makes you forgive her for having done Mamma Mia.
During my first forty years, when I lived in Italy, I had never heard of Julia Child nor Marcella Hazan. Well, I was not interested in food, either. I did not know what impact they had on the way Americans cook. The movie was not only entertaining, it was very instructive. Now, I'd like to see a movie about Marcella Hazan and the way she changed the perception of Italian food in America. Should I start a blog and cook the 365 (?) recipes in The Italian Classic Cook Book she wrote in 1973? I am no Julie, and my kitchen is smaller than hers. Also, I am Italian, and I can speak to Marcella in our native language. It might give the project more authenticity.
As I overheard from several different people leaving the theatre, they were all going to the nearest book store to get Julia's book (now back at No. 1 on The New York Times best-seller list) and start cooking. This is great – French, Italian… it doesn't matter, as long as you start setting your foot into your virgin kitchen and start cooking.