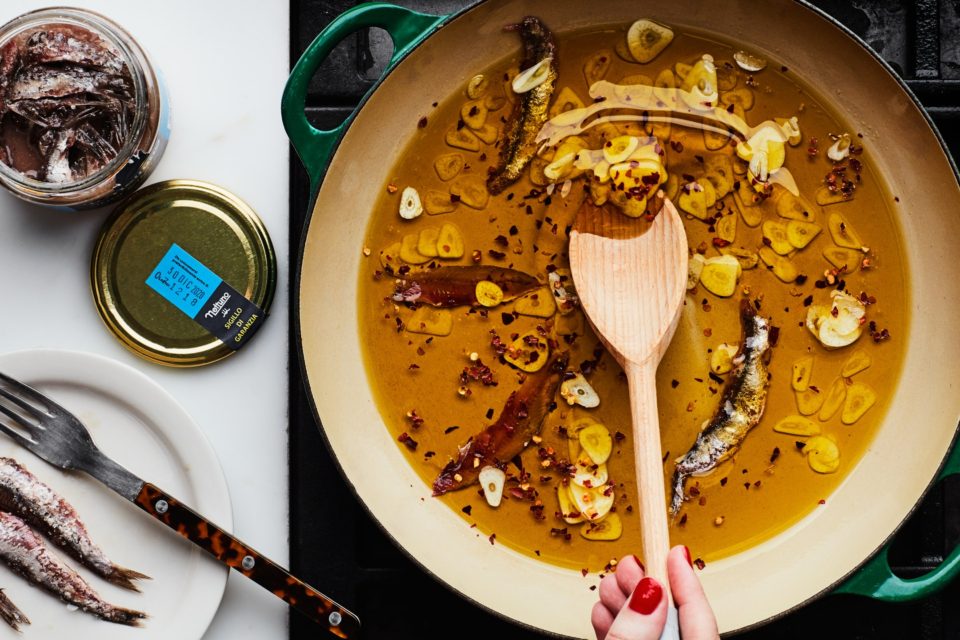 Emily Johnson, from Epicurious, wrote a beautiful article about Nettuno's anchovies and colatura, after she read "Food of the Italian South" from our dear friend Katie Parla.
Here's what Emily reported about these anchovies: "When it comes to seeking out the best anchovies, Katie likes to focus on two regional production zones: Cilento and Cetara in Campania. 'My favorite are salted anchovies from a company called Nettuno.' These, she explains, are anchovies that have been salted, set aside for a short time, then jarred. True anchovy heads prefer salted ones over the more familiar oil-packed variety because they tend to be meatier and more substantial. When you buy them, remove the salt before cooking, pat them dry, then go ham: 'Mash them into a salad dressing or melt them by heating in olive oil, then use the mixture for pasta sauces,' suggests Katie."
Obviously, Emily and Katie talked about colatura too. "Nettuno's colatura can't be beat. '[Nettuno is] owned by a guy named Giulio Giordano, an expert who's been making colatura his whole life by carefully layering anchovies in salt by hand in wooden barrels topped with weighted lids and set aside to age. He's able to judge when the barrels are ready: he knows that the flesh of the fish and the liquid that's extracted through the salt has reached equilibrium. He tests the juice on top of the anchovies when it rises to the top of the barrel. Then, when the sauce is ready, he punctures the bottom of the barrel, which means the juice sort of filters back through the fish again and is bottled,' explains Katie."
Colatura di Alici is an extremely fascinating product especially for how it's made. In fact: "It takes two to three years for this process to complete. The product, Katie points out, is time-consuming and created with the utmost skill and experience. 'What's amazing is you don't need a lot of it to go a long way. It's got lots of rich umami flavor.'" It can't be more slow food than this!
You can buy both the anchovies and the colatura here at Gustiamo! Why don't you try to follow some of the recipes we wrote in our Gusti blog? Like this spaghetti con colatura or this super umami green sauce, for example!
Thanks Emily for the article! You can read the full article on salted anchovies and Colatura on Epicurious.