We'd like to introduce you to: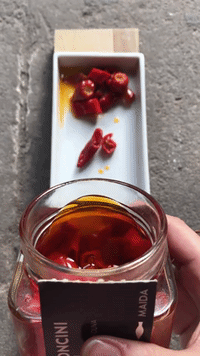 Chili Peppers in Extra Virgin Olive Oil, made by Francesco Vastola on Maida Farm.
They are red-hot and full of flavor. These chili peppers are our newest product from Campania. They are a local variety of chili in Salerno known as Peperoncino a Cornetto.
The only ingredients in this jar are: hot peppers, extra virgin olive oil, wine vinegar, salt.
A chef's dream. Use the peppers and then use the oil! It's the best chili oil you've ever had.
These have a kick of heat, but you also taste the pepperiness of the vegetable. They are complex, with a hint of natural sweetness that rounds out the spice.
Farmer-made spicy, is the best kind of spicy.
Top 3 reasons we love these chili peppers:
1. Yes, very spicy. But NOT palate-obliterating spicy. It pairs well with food. 
2. The oil. Eat the peppers and then drizzle the chili oil on everything.
3. Better than ANY hot sauce. Yes, for real. After all, chili pepper preserved in olive oil is the mother of all hot sauce.