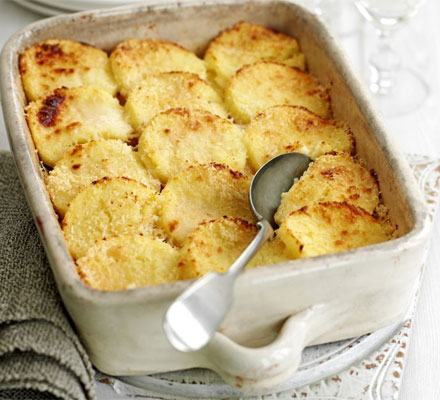 From: Holly Smith
Semolina gnocchi with cardoon honey
Ingredients:
7 cup milk
A2 cup semolina
4tablespoon butter
1/4 cup Parmigiano Reggiano
Kosher Salt to taste
Olive oil to moisten board to cool gnocchi .
Scald salted milk over medium high heat whisk in semolina until
thickened. Switch to a wooden spoon or rubber spatula and cook 3-5
minutes. Add butter, mix well incorporated. Add cheese and yolks by
each. Taste and adjust seasoning (salt) as needed.
Using a rubber spatula pour onto oiled wooden board ( or cutting board).
Cool in refrigerator cut or tear shapes and brown in butter and extra
virgin olive oil until brown and crisp. Warm in oven and serve
drizzles with cardoon honey.  This is great with braised beef or pork
cheeks.
Will hold in fridge 4-5 days.