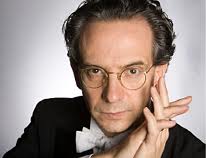 Fabio Luisi, a native of Genova, was named Principal Conductor of the Metropolitan Opera last month. Congratulations! While accepting his new engagement (of course!), he upset the Teatro dell'Opera of Rome because he canceled his fall performances there. Well, Rome will understand.
We have prepared the perfect care package to send to Fabio Luisi's apartment on the Upper West Side (Fabio, all we need is your exact address. Could you send it to us?): a jar of Fresh Pesto by the Genovese King of Pesto, Roberto Panizza; a bag of Pasta (Trenette Latini); a bottle Pianogrillo, a symphony of an Olive Oil; a bag of Giamaica coffee. It will calm all quarrels.
Buon lavoro, Maestro!