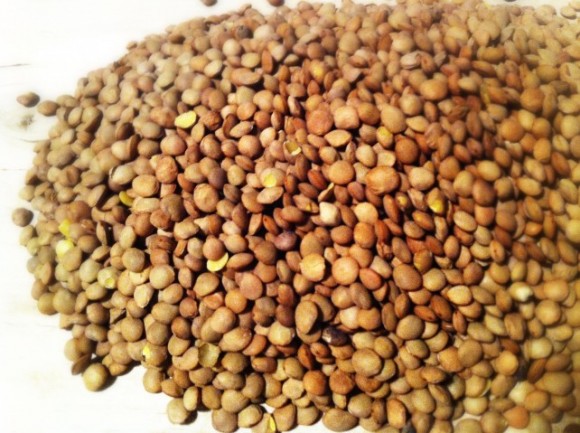 We are kicking off soup season with this favorite from Erica de Mane. This lady know lentils. So, of course, for her Umbrian lentil soup recipe she uses our lentils, which are grown in the heart of Umbria.
Erica says, "For this soup I've chosen the tiny, tanish lentils grown in Umbria. They keep their shape even when cooked tooth-tender, unlike most lentils, which break down almost into a purée. They produce a soup that's more brothy and elegant. I get beautiful ones from Gustiamo, the best Italian food importer in the country that I know of." Grazie Erica, we are blushing. Here's her dynamite recipe: Umbrian Lentil Soup with Andouille and Escarole
Ingredients
Onion, 1, diced

Carrots, 2, peeled and diced

Celery stalk, 1, diced, plus a handful of celery leaves, lightly chopped

Garlic cloves, 2, thinly sliced

Ground allspice, about ½ teaspoon
Thyme, 7 or 8 large sprigs, leaves chopped
Andouille sausage, 1, cut into very small cubes
Umbrian lentils, 1¾ cups dried, (no soaking needed with lentils

—

another reason to love them)
Black pepper
Sugar, a pinch
Dry vermouth, a splash
Light chicken broth, 1 quart
Escarole, 1 small head, cut into very small pieces (about 1½ cups cut)
Red wine vinegar, a drizzle
Unsalted butter, a lump
Preparation
Choose a big soup pot with a lid. Add 2 tablespoons of olive oil, and let it warm over medium flame. Add the onion, carrot, celery, and its leaves, and let them soften for about 4 minutes.
Add the garlic, allspice, thyme, and andouille, and sauté until the sausage and the seasonings are releasing their aromas, about 4 minutes. Add the lentils, salt, black pepper, and sugar, and sauté until the lentils are well coated with seasoning, another 2 or 3 minutes.
Add the vermouth, and let it bubble for a few seconds. Add the chicken broth, and bring to a boil. Turn the heat down a touch, partially cover the pan, and cook at a low bubble until the lentils are tender, about 35 to 40 minutes. You'll want to add warm water if the liquid gets too low, so check every once in a while. Give the surface a good skim.
Now add the escarole, and let it wilt into the soup. Adjust the texture by adding more hot water, or a little more broth if you prefer. I like my soup a bit loose.
Turn off the heat and add the butter and a few drops of vinegar to balance out the flavors. Taste for seasoning. That's it.