This post was written by Charlie, our 2015 summer intern. Charlie is a precocious 17 year old from the Ethical Culture Fieldston School in the Bronx. We were very grateful to have his help and, as you can see, we had a lot of fun! This is what Charlie has to say about his Gusti internship, oh, and be sure to watch the video at the end of this post:
Have you noticed that your GustiProducts have been packaged with a little bit more pizzazz over the past few months? Or what about the enthralling blog posts about tomatoes? Maybe it's because the box you opened or that article you read was my own…then again, maybe it wasn't. Likely it wasn't.
Since late June, I have been interning at Gustiamo in the Bronx. Here I've done everything from mopping floors to interviewing artists, a range that will surely prove valuable in the future. I come from a private high school in the Bronx where I learned about Gustiamo. In the fall, I will become a senior beginning the college process also known as Death Con. Looking at the list of jobs and internships on my school's website, my eyes were caught when I saw "Italian Warehouse."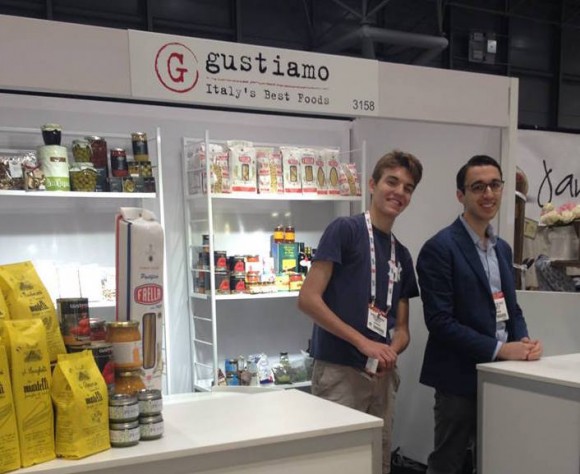 Now as a big fan of the Sopranos, I figured I'd be lifting boxes with Christopher and AJ, doing some side jobs for Paulie Walnuts, and driving T to visit his "mudda" at Green Grove (it's a retirement community), to be made at the end of the summer. Then I looked up Gustiamo and to my surprise it's a fancy food importer that sells things like anchovies, raisins, and apricot jam, things I didn't even know were Italian. Not what I was expecting, but still I was intrigued. I interviewed and visited and decided that it would be a good learning experience and it has been.
Ideal internships are more didactic than schools, though most aren't. You're supposed to learn what you actually do at work. I didn't intend on learning math or literature this summer; I came to Gustiamo to learn how a small business operates, what its employees do, and how it can improve its prospects. And honestly I did all these things. Most interns, especially those my age, notoriously have bad experiences. They spend days literally cut-copy-and-pasting things for their bosses, which I admit I did some of, getting coffee, which I did too, and very little else. Yes, "interns" spend time in workplaces, but they don't do "real" edifying work because they're simply not old enough.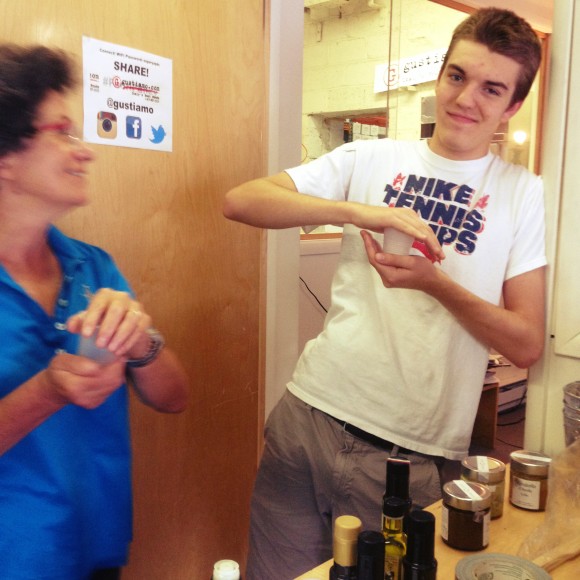 My internship, on the other hand, was more than cutting and pasting.Because Gustiamo is so small, I got to do a little of everything on each level. It's been like an antipasto, a sampling of appetizers before the main course – my own career. I lifted boxes of pasta and tomatoes in the warehouse with Sharodd, packaged your extra virgin olive oil and anchovy sauce with Ian, picked orders of thirty bags of salt with Frances, wrote blogs about more tomatoes with Danielle, checked inventory of almonds with Edoardo, and with Beatrice, well, watched funny YouTube videos and learned to make pasta al pomodoro the "right" way. I even learn un pochino Italiano (that's "a little Italian" for you merigans like me) using Duolingo. Benissimo! I've picked up a lot this summer, not just a few pounds from all this pasta, but some business lessons that will most definitely serve me regardless of what profession I choose. Overall, it's been a fantastic summer. Grazie, Gustiamo for the experience.
— Charlie
Grazie a te Charlie! Really, watch the video. It's hysterical.